This week at the Foreign Office
A look at the work of the Foreign Office and its embassies overseas this week.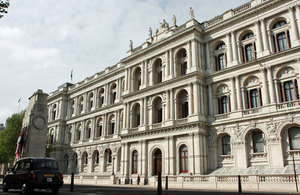 This week the Foreign Secretary announced that the UK no longer recognises the Qadhafi regime as representatives of the Libyan Government, and that the UK is inviting the National Transitional Council to appoint a new Libyan diplomatic envoy to take over the Libyan Embassy in London.
UK-France cooperation on Libya was the main subject of discussion when the Foreign Secretary met the French Foreign Minister on Monday.
Condemning the killing of National Transitional Council Military Commander General Abdel Fattah Younis, Minister for the Middle East and North Africa Alistair Burt said it is important that those responsible are held to account through proper judicial processes.
The Foreign Secretary said that the Government of Yemen "must protect its citizens" when he met the Yemeni Foreign Minister on Wednesday.
Foreign Office Minister Jeremy Browne promoted British trade in Latin America with visits to Equador, Bolivia & Peru.
At the 57th meeting of the Commonwealth Parliamentary Conference the Minister for the Commonwealth Lord Howell and the Foreign Secretary called on the organisation to realise its potential as an inspirational and effective advocate of democracy and human rights.
Wednesday marked one year to go until the London 2012 olympics, our embassies all over the world took part in events to promote what promises to be the "greatest show in the world"
Minister for Europe David Lidington expressed concern about the violence in northern Kosovo. The Foreign Secretary and German Foreign Minister Westerwelle condemned all acts of violence in their joint statement.
Minister for Africa Henry Bellingham visited Sudan, Ethiopia and Somaliland to discuss bilateral relations. See our round up of coverage via Storify:
[View the story "Minister for Africa visits Sudan, Ethiopia and Somaliland" on Storify]
The British High Commission in Tanzania used their team away day to volunteer at a local community centre in the suburbs of Dar es Salaam.
In Egypt Minister for the Middle East and North Africa Alistair Burt discussed reform and UK support with senior Egyptian officials.
Published 29 July 2011