This week at the Foreign Office
A look at the work of the Foreign Office and its embassies overseas this week.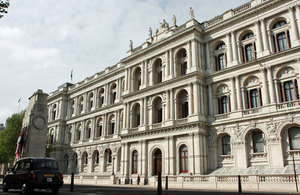 Foreign Secretary William Hague answered the question "Why does the Horn of Africa matter to the UK?" in his latest video blog. He also updated Parliament on South Sudan following its secession from Sudan last week.
As part of his visit to the United States, Minister for the Middle East and North Africa Alistair Burt visited Washington.
Minister for Europe David Lidington argued for 'intense and systematic' cooperation in EU foreign policy in a roundtable debate on EU foreign policy on 12 July.
Minister Alistair Burt issued a statement condemning the attacks on the French and US Embassies in Damascus. Later, the Syrian Ambassador was called to the Foreign Office and the UK's condemnation of these attacks were reiterated .
Speaking at the Iraq Petroleum Conference, Foreign Office Minister Lord Howell said that Iraq's natural resources have the potential to help tackle the world's energy challenge.
Minister Jeremy Browne visited the North East of Japan where he was able to witness some of the devastation caused by the earthquake and tsunami in March this year. He also recorded a video message, in which he spoke of the fortitude and resilience of the Japanese people.
On Wednesday, Foreign Secretary William Hague sent his deepest condolences to those that lost relatives or were injured in the bomb blasts in Mumbai.
He also welcomed the Parliamentary passage of the EU Bill, saying "for the first time it gives real control to Parliament and every voter in the country over the most important decisions a government can make in the EU."
Minister for the Overseas Territories Henry Bellingham arrived in the Turks and Caicos Islands on Thursday afternoon at the start of his second visit to the British Overseas Territory.
The Foreign Secretary attended the Libya Contact Group meeting in Istanbul. Following the meeting, he said "the tide is moving inexorably against Qadhafi".
Published 15 July 2011