This week at the Foreign Office
A look at the work of the Foreign Office and its embassies overseas this week.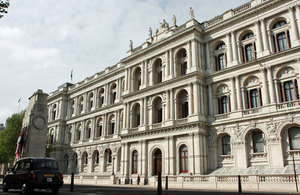 This week the Foreign Secretary reflected on his visit to Afghanistan and Pakistan in his latest video blog:
He also answered questions from the public on the visit via Twitter.
On Wednesday the Foreign Secretary updated Parliament on recent developments in the Middle East and North Africa.
Speaking at a climate change and energy conference on Monday he said that our values, security and prosperity compel us to act on climate change.
Minister for Consular Policy Jeremy Browne gave advice to parents on what they can do if they think their child may be at risk of parental child abduction as the Foreign Office reported a 10% increase in cases over the last year.
Minister for the Middle East Alistair Burt met the people of Gaza and Sderot during his three day visit to Israel and the Occupied Palestinian Territories.
Full visit coverage:
Parliamentary questions on piracy, Europe day and the Polish Presidency of the European Union were answered by Foreign Office Minister Lord Howell this week.
British High Commissioner to Kenya Rob Macaire talked about the role of modern diplomacy in his latest blog post.
The Hungarian EU Presidency concluded yesterday, British Ambassador to Hungary Greg Dorey gave them their end of term report. Poland have today assumed the 6 month presidency for the first time. Charge d'Affaires in Warsaw Steven Chandler has blogged about what this means for Poland.
Published 1 July 2011