This week at the Foreign Office
A look at the work of the Foreign Office and its embassies overseas this week.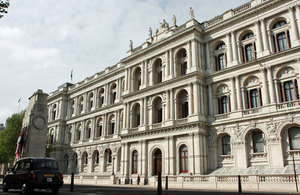 This week Foreign Secretary William Hague visited Afghanistan with the Foreign Minister of the United Arab Emirates, His Highness Sheikh Abdullah bin Zayed Al Nahyan. The two Ministers issued a joint statement on their visit to Helmand and Kabul.
During the visit, the Foreign Secretary reiterated the UK's commitment to a long-term partnership with Afghanistan based on diplomacy, trade and development, and spoke about the UK's role in Afghanistan. Earlier in the week, the Government published its Afghanistan progress report for May 2011.
The Foreign Secretary also visited Islamabad on 23 June, on his second trip to Pakistan since taking up his position last year.
Deputy Prime Minister Nick Clegg led the most senior British government visit to Brazil since the Coalition government took office. He was accompanied by Jeremy Hunt, Secretary of State for Culture, Olympics, Media and Sport; David Willets, Minister of State for Universities and Science; Lord Green, Minister of State for Trade and Investment; and Jeremy Browne, Minister of State for the Foreign and Commonwealth Office.
Speaking ahead of the fifth anniversary of the kidnap of Gilad Shalit, Foreign Office Minister for the Middle East Alistair Burt recorded a video message calling for the Israeli Staff Sergeant's release.
At the third Eyewitness Libya event, Mr Burt spoke to people from the Libya Western Mountains about what they have seen, heard and experienced.
The Foreign Office Minister Lord Howell of Guildford commented on the conclusion of the Lords' consideration of the Government's EU Bill in a written statement and video.
The Foreign Secretary released a Written Ministerial Statement on the funding for the BBC World Service.
At a Commonwealth Business Council event, Foreign Office Minister for Africa Henry Bellingham spoke about trade and prosperity in the region.
Published 24 June 2011