This week at the Foreign Office
A look at the work of the Foreign Office and its embassies overseas this week.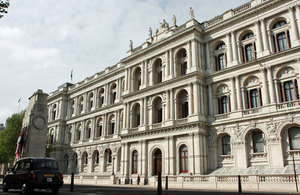 This week NATO announced that operations in Libya will be extended for 90 days. Foreign Secretary William Hague welcomed this announcement describing it as an "important reaffirmation of the international community's resolve and determination" to implement fully Resolution 1973.
As violence continues in Yemen, Minister for the Middle East Alistair Burt called on the Yemeni government and security forces to exercise restraint and fulfil their responsibility to protect the Yemeni people.
He also said that British nationals in Yemen should leave immediately, while commercial flights are still operating.
While on a visit to the Gulf region, Foreign Office Minister Lord Howell spoke to the International Energy Forum about aims to enhance oil price stability and the economic problems of sustained high oil prices.
In Korea, Business Secretary Vince Cable outlined the investment opportunities in the UK arising from the EU/Korea Free Trade Agreement.
He then travelled to Tokyo and spoke to Japanese and British business leaders, saying Japanese investment continues to play a "central role" in the UK's economy.
Also in the Far East, Foreign Office Minister Jeremy Browne said that Hong Kong remains a "top priority" for the UK's trade and investment interests.
Minister for Europe David Lidington welcomed Ratko Mladic's transfer to the Hague on Tuesday, hailing it as an "important day for all those who suffered and lost loved ones during the terrible conflicts of the 1990s".
The British Embassy in Phnom Penh announced new funding for protecting Cambodian children and building law enforcement capacity.
Yesterday the Foreign Office urged travellers to reassess their priorities when visiting friends and family overseas as packing items such as teabags are considered before taking out travel insurance.
Published 3 June 2011