This week at the Foreign Office
A look at the work of the Foreign Office and its embassies overseas this week.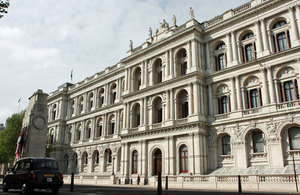 Main news this week was US President Barack Obama's State Visit to the UK. During the visit the Prime Minister and President Obama announced six areas where the UK and the US will strengthen their co-operation in the coming months. Full visit coverage.
The Foreign Secretary started the week at the EU Foreign Ministers meeting, where he welcomed intensified sanctions on Iran, and the decision to sanction members of the Syrian Regime.
The situation in Yemen continued to deteriorate this week. The Foreign Secretary re-iterated the UK's call to President Saleh to sign the agreement brokered by the Gulf Cooperation Council. The Foreign Office travel advice for Yemen remains the same: British nationals should not remain there and should leave immediately.
Yesterday, the President of Serbia announced that former Chief of Staff of the Bosnian Serb Army Ratko Mladic had been arrested. The Foreign Secretary welcomed his arrest, hailing it a "historic moment" for the region. Writing in the Sun on 27 May he said that Mladic's arrest "serves as a warning" to members of regimes around the world who are considering committing crimes against humanity.
The Foreign Secretary raised the UK's concern over recent arrests of protestors and medical staff in Bahrain when he met the Crown Prince of Bahrain on 25 May.
Minister for the Middle East and North Africa Alistair Burt heard firsthand accounts of the situation in Misrata during a meeting with eyewitnesses from the besieged city.
In a speech to City of London Financiers, Minister for Europe David Lidington said that the government's determination to rebuild the British economy depended to a large extent on a thriving City to drive growth.
"The UK Government continues to develop a strong and supportive bilateral relationship with Iraq and trade and commerce is a key strand of this." - the words of Foreign Office Minister Lord Howell in a speech to the Iraq British Business Council on 24 May.
Minister for Africa Henry Bellingham visited three countries this week as part of his ten day visit promoting British interests in Africa.
In a Foreign Office film launched on Thursday, playwright, novelist and commentator Bonnie Greer talked about uncovering her true heritage at the British Museum.
The Government announced a £2.1m contribution to the preservation of the Auschwitz-Birkenau concentration camp to help ensure the lessons of Auschwitz live on for generations to come.
Published 27 May 2011