This week at the Foreign Office
A look at the work of the Foreign Office and its embassies overseas this week.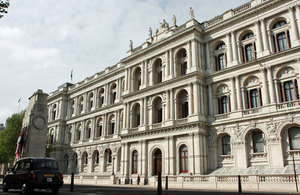 On Monday Foreign Secretary William Hague warned of the need to remain vigilant following the announcement that Osama Bin Laden had been killed by US Ground forces.
In a statement to Parliament on Tuesday, Prime Minister David Cameron said that "While Bin Laden is gone, the threat of Al Qaeda remains". Foreign Office Minister Alistair Burt said that Pakistan will remain a "very important" security partner. The Foreign Secretary said "We will continue to fight against terrorism wherever it rears its head" in his speech to the Lord Mayor's banquet

On Syria, Foreign Office Minister Alistair Burt said that every effort is being made to get Syria to turn away from the path that it is taking, as violence in the country continues.
The second meeting of the Libya Contact Group took place yesterday in Rome. The Foreign Secretary represented the UK. On Wednesday he ordered the expulsion of two diplomats from the Libyan Embassy in London. Today Foreign Office Minister Alistair Burt condemned the Libyan regime's shelling of the Tunisia border.
Speaking from his visit to Egypt, the Foreign Secretary said "the people of Egypt have sent a message to the rest of the region that reform can be peaceful".
He paid tribute to journalists, bloggers and media organisations to mark World Press Freedom Day.
The Foreign Secretary published the report on progress in Afghanistan during March, and the Government's response to Parliament's Foreign Affairs Committee report into Afghanistan and Pakistan.
He talked of "important and productive" discussions following his meeting with Japanese Foreign Minister Matsumoto.
The Prince of Wales visited Washington, exploring the three themes of environmental sustainability, the shared sacrifice of UK and US armed forces and education.
Foreign Office Minister Lord Howell answered a question in the House of Lords on Sudan
World Press Freedom Day, Iraq and Osama Bin Laden were amongst the topics discussed by Foreign Office bloggers this week.
Published 6 May 2011