This week at the Foreign Office
A look at the work of the Foreign Office and its embassies overseas this week.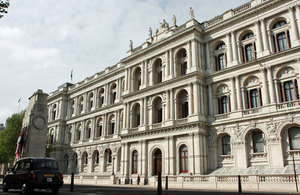 The key areas of focus for the Foreign Office this week were Libya, providing consular assistance to British nationals affected by the earthquake and tsunami in Japan and the ongoing situation in Bahrain.
Libya
On Monday, Prime Minister David Cameron updated Parliament on the special European Council on 11 March that focussed on Libya and the Middle East.
On Tuesday, the United Nations Human Rights Council met to discuss the human rights situation in Libya and Foreign Secretary William Hague updated Parliament on the response to the situation in Libya following the G8 Foreign Ministers meeting in Paris.
Permanent Under Secretary Simon Fraser summoned the Libyan Ambassador on Wedneday and reiterated that the UK and many others in the international community believe Qadhafi must relinquish power immediately.
The United Nations Security Council Resolution on the Libya No-Fly Zone was approved on Thursday. Commenting on the Resolution, the Foreign Secretary said, "We have been clear that the world would not accept Qadhafi's brutality against his own people." Following the adoption of the Resolution, the Prime Minister gave a statement to the House of Commons on Friday.
Japan
The Foreign Office has been regularly publishing updates on the Government response since an earthquake with a magnitude of 9.0 struck 250 miles from Tokyo on Friday 11 March.
Our travel advice on Japan is being continually updated and we have provided a Q&A on our UK consular efforts in Japan. The UK Government is chartering flights for British nationals wishing to leave Japan.
On 14 March the Prime Minister updated Parliament on the situation in Japan following the earthquake and tsunami, and the Foreign Secretary gave a further update on the Government's response on 17 March.
Bahrain
On Wednesday, the Foreign Secretary spoke with Bahraini Foreign Minister, H.E Shaikh Khalid Bin Ahmed Bin Mohamed Al Khalifa and expressed serious concern about the situation on the ground. The Prime Minister personally called on the King of Bahrain to end the violent suppression of street protests in the Gulf state.
The Foreign Office is regularly updating our travel advice for Bahrain in light of developments, and the UK government is chartering planes to supplement commercially available options.
Also this week, the Foreign Secretary opened a debate on the UK's policy on the Middle East and North Africa in the House of Commons. He described the violence used against protesters in Yemen as unacceptable and discussed developments across the Middle East in his meeting with Israeli Defence Minister Ehud Barak on 17 March. He also updated Parliament on the outcome of the investigation into the death of British aid worker Linda Norgrove.
The UK Government celebrated Commonwealth Day and the Foreign Office marked 500 days to go until the London 2012 Olympic Games. A film featuring Olympic champion Steve Redgrave was launched to coincide with this milestone.
Published 18 March 2011