This week at the Foreign Office
A look at the work of the Foreign Office and its embassies overseas this week.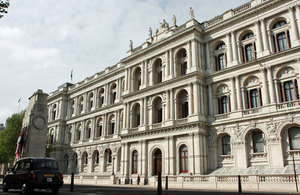 This week the Foreign Secretary visited Hong Kong, Australia and New Zealand to promote the British economy, the Commonwealth and the UK's vision for a low carbon future.
See our coverage of the Foreign Secretary's visit:
Hong Kong
Minister for the Middle East Alistair Burt visited Israel and the Palestinian Authority and Jordan.
On Tuesday, Minister for Europe David Lidington recorded a blog encouraging more Britons to apply for EU jobs.
The UK-Nordic Baltic Summit took place this week. Prime Ministers and Business Leaders of the 9 countries met to discuss the challenges facing northern European economies, including how best to foster equality, wellbeing and competitiveness in the current economic climate.
In our latest See Britain film, three designers discuss the unique atrributes of the UK design industry that have allowed their business to flourish.
British Ambassador in Kyiv Leigh Turner talked about promoting British business in Ukraine in his blog and British Ambassador in Brasilia Alan Charlton talked about the floods and landslides in Rio and Sao Paulo.
In travel news this week we have been monitoring the situation in Tunisia, and have been updating our advice for British travellers and residents.
Published 21 January 2011