This week at the Foreign Office
A look at the work of the Foreign Office and its embassies overseas this week.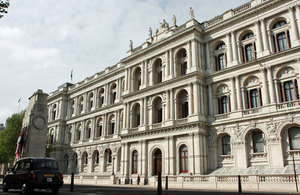 The week the Foreign Secretary chaired the UN Security Council debate on Sudan, met US Secretary of State Hillary Clinton and delivered the fourth and final speech in a series outlining the Government's foreign policy, this time focussing on international security.
Today he is attending the NATO Summit in Lisbon, Portugal with Prime Minister David Cameron and Defence Secretary Liam Fox.
While in Madrid, Minister for Europe David Lidington gave a speech on the role of the UK in the European Union.
Foreign Office Minister Alistair Burt visited Chicago this week promoting bilateral trade relations. He talked about his trip in a video message.
The Overseas Territories Consultative Council took place in London. Minister Henry Bellingham introduced a new strategy to reinvigorate the UK's relationship with the Overseas Territories.
Students from across the UK got the chance to show off their negotiating skills during a mock EU Council debate on Tuesday.
In travel news this week we covered industrial action in France planned for 23 November, changes in travel advice to Madagascar and Guinea and advice for Arsenal fans travelling to Portugal next week for the match against Braga.
Next week The Queen and the Duke of Edinburgh will visit the United Arab Emirates and Oman. Our Embassies in UAE and Oman will cover the visit and have been reflecting on The Queen's previous visits in the 70's and 80's.
Published 19 November 2010