This week at the Foreign Office
A look at the work of the Foreign Office and its embassies overseas this week.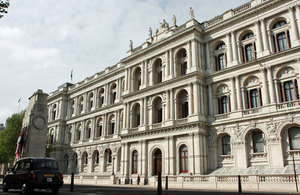 Foreign Secretary visits South East Asia and India
Foreign Secretary William Hague travelled to Laos, Thailand and India to strengthen UK ties with Asian countries and champion Britain as a home for business. He re-opened the British Embassy in Laos after an absence of 27 years.
"This step reflects our desire to forge a deep and lasting relationship with the Lao People's Democratic Republic, and our Government's determination to build stronger relationships in Association of Southeast Asian Nations."
In India the Foreign Secretary highlighted aspects of the UK and India partnership including business, education, cyber security and international security. Read more about the Foreign Secretary's visit
Syria
The Foreign Secretary urged the Syrian opposition to unite around a vision for a democratic and stable Syria and announced broadening diplomatic contacts with the opposition including military figures in the armed opposition.
"This will help us to understand better the situation in Syria and the relationship between political and armed opposition groups so we can properly support political transition."
Read the full statement on Syria
Foreign Office Minister visits Pakistan
Foreign Office Minister Baroness Warsi travelled to Pakistan and stressed the need for all politicians to work towards elections that are free from violence and fraud, and for citizens to be able to vote without intimidation.
Arms Trade Treaty
Minister Alistair Burt welcomed overwhelming support for a global Arms Trade Treaty at the UN and reaffirmed the UK's commitment to finally secure a Treaty.
Iranian blogger Sattar Beheshti
It was reported that Sattar Beheshti an Iranian blogger died whilst in detention in Iran, it appears that his crime was to advocate human rights on the internet. Foreign Office Minister Alistair Burt said: "The Iranian authorities have full responsibility for Beheshti's welfare in prison and I call on Iran urgently to confirm what has happened to him."
Risk of kidnap to British nationals in Sahel region
Minister for Africa Mark Simmonds met with members of the travel industry to highlight the threat to British nationals travelling in Sahel.
"We urge tour operators, including rally organisers, to work with us to make sure that British nationals are fully aware of the serious risks involved in travelling to these areas."
Read more about the risks in Sahel
Remembrance Day
The Foreign Office, our Embassies and High Commissions are preparing for Remembrance Sunday. The Foreign Secretary will lay two wreaths, one at the national Remembrance service at the Cenotaph and the other at the Diplomatic Memorial Service inside the Foreign Office.
Read about the commemorations and 11 examples of our work to help avert and reduce conflict.
Also this week:
Published 9 November 2012