News story
Theresa May: Life should mean life for murdering a police officer
The Home Secretary today (Wednesday 15 May) said life should mean life for anyone who murders a police officer.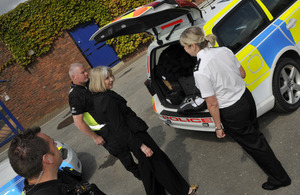 Life should mean life for anyone who murders a police officer, the Home Secretary said today (Wednesday 15 May).
She told the annual Police Federation conference she wanted to see whole life tariffs imposed on anyone found guilty of murdering an officer.
Home Secretary Theresa May said:
The murder of a police officer is a particularly appalling crime. To attack and kill a police officer is to attack the fundamental basis of our society.

We ask police officers to keep us safe by confronting and stopping violent criminals for us. We ask you to take the risks so that we don't have to. And sometimes you are targeted by criminals because of what you represent.

That is why I can announce today that, subject to consultation with the Sentencing Council, the government will change the law so that the starting point for anybody who kills a police officer should be a life sentence without parole.
Hard work
The Home Secretary told the event in Bournemouth that government reforms were helping to improve policing and she praised officers for their hard work in helping to cut crime by more than 10 per cent since the government came to power.
And she pledged to carry on reforming policing by making it easier for officers to cut crime and catch criminals – including slashing yet more bureaucracy and red tape and improving the police use of modern technology.
The Home Secretary also stressed her complete trust in the ability of officers to do their job without interference and announced an expansion in the number of offences the police can prosecute in court without calling in the Crown Prosecution Service.
Home Secretary Theresa May said:
I know that dealing with the CPS on minor offences wastes a great deal of your time, and I know how frustrating that can be.

That's why I can announce today that I will increase the scope of police-led prosecutions to include shoplifting of goods worth £200 or less. That means up to another 50,000 prosecutions being led by the police – cases that will be dealt with faster and more effectively.

Last week, we introduced legislation in Parliament that will make this happen. It will reduce the amount of time you have to spend waiting for CPS lawyers, end the duplication of paperwork and put you back in charge of these cases.
Federation representatives also heard how the Home Secretary was determined to end the situation where police officers are effectively acting as ambulance drivers or social workers when they are called upon to deal with those suffering from mental health problems.
She said work is being carried out with Health Secretary Jeremy Hunt to improve the medical response to mental health could save up to 25 per cent of police officers' time and vastly improve the treatment of those who need it.
Published 15 May 2013