News story
The visit of Lord Astor of Hever to Oman
Visit of Lord Astor of Hever, the UK Prime Minister's Trade Envoy for Oman, 2 to 6 October 2017.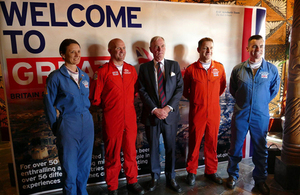 Lord Astor of Hever, the UK Prime Minister's Trade Envoy visited Oman on 2 to 6 October. His role is to work with the UK Department for International Trade to support and encourage the growth of business links and partnerships between the UK and Oman, and to promote the UK as a trade partner of choice for Oman. His visit reinforced the importance the UK places on its bilateral trade relationship with Oman.
During his visit, Lord Astor had meetings with a range of senior government and business officials. He attended a lunch for British and Omani business with His Excellency Dr Ali Al Sunaidi, Minister of Commerce and Industry, and watched the amazing Royal Air Force Aerobatic Team display, the "Red Arrows". He was also pleased to witness the signing of a contract between CB&I and Douglas-OHI at the British Ambassador's Residence.
At the end of his visit, Lord Astor said:
I am pleased to be back in Oman in my role as the Prime Minister's Trade Envoy.

Oman is an important strategic and commercial ally for the UK. My role as Trade Envoy is to encourage and support the growth of business links and partnerships between our two great countries and help to ensure the UK is seen as a 'trade partner of choice' for Oman. I am delighted to see that the UK is the largest source of Foreign Direct Investment (FDI) in Oman by far, accounting for over 45% of total FDI according to Omani statistics.

With His Excellency Dr Ali Al Sunaidi, I underlined the recent and significant increase in the UK government's export credit agency's country limit for Oman from £2 billion to £3 billion. This will further stimulate the Oman economy, by giving buyers and project sponsors in Oman access to attractive long-term finance, and will help to build and strengthen our business partnership with this wonderful country.

The visit of the iconic Red Arrows has allowed us to demonstrate our commitment to the country through promoting trade but also through education and training with the British Council, and Omani alumni who have studied in the UK.
Notes for Editors
The UK's Department for International Trade (DIT) has overall responsibility for promoting UK trade across the world and attracting foreign investment to the UK economy. DIT are a specialised government body with responsibility for negotiating international trade policy, supporting business and delivering an outward-looking trade diplomacy strategy.
Trade Envoys are a network of parliamentarians appointed by the Prime Minister, drawn from across the political spectrum. Trade Envoys engage with one or more markets where substantial trade and investment opportunities have been identified by the UK government. They support the drive for economic growth by building on the UK's existing relations with these markets and maximising bilateral trade, thereby generating real and long term benefits for the UK.
Douglas-OHI is a Joint Venture between Interserve UK and the OHI Group. It has been sub-contracted by CB&I to help deliver part of the Liwa Plastics Industries Complex in Sohar.
UK Export Finance (UKEF) has up to £3 billion in financing capacity to help buyers in Oman make sure capital goods or services from the UK come with competitive terms of finance for their purchases, either directly from the UK government or through a guarantee on a commercial loan. UKEF support can give overseas project sponsors attractive long-term financing that makes sourcing from the UK more competitive. Financing is also available in a range of 40 currencies (including the Omani Rial).
Published 6 October 2017