"The UK will stand alongside the US in supporting those in the region"
Foreign Secretary William Hague welcomes President Obama's speech on the Middle East.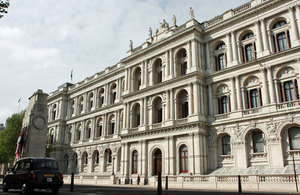 Commenting on President Obama's speech on the Middle East today, the Foreign Secretary William Hague said:
"I warmly welcome President Obama's speech today which set out the importance of responding to the historic developments of the Arab Spring. The scale of the challenge is unprecedented and our response must match the aspirations of people across the region.
I welcome President Obama's commitment to join the EU, G8 and International Financial Institutions in ensuring a response that looks to the future. The UK will stand alongside the US in supporting those in the region who demand more open, transparent government and genuine political and economic participation. We have already begun work on this through our new Arab Partnership Initiative. At the same time, we will continue to confront those who attempt to use violence to repress peaceful protest.
Our response nationally and internationally must be bold and ambitious. It is in our national interest to do so. During next week's state visit and at the G8 Summit we will discuss further with the US and our international partners how to help drive economic and political reform which is based on a partnership of equals and responds to the differing circumstances of each country.
I have also consistently made clear the importance of not being diverted by recent events from the critical need to make progress on the Middle East Peace Process. I therefore welcome the continued reaffirmation of US commitment to a just and lasting resolution to the conflict. In particular I support President Obama's clear message that the borders of Israel and Palestine should be based on the 1967 lines with mutually agreed swaps, secure and recognised borders for both sides, a sovereign and contiguous Palestinian state, an Israel whose security concerns are met, and an agreement on the issues of Jerusalem and refugees.
The unprecedented changes of the Arab Spring make progress on the peace process more urgent than ever. Today's announcement endorsed clear parameters for a two-state solution, which the UK has been advocating. We urge all parties to seize this moment of opportunity and return as soon as possible to direct negotiations.
Published 19 May 2011