The Queen's Birthday Honours List 2018
The Queen's Birthday Honours List recognises the achievements of a wide range of extraordinary people across the United Kingdom.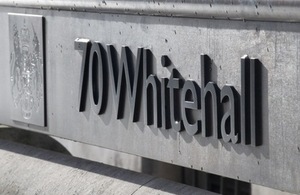 Each recipient exemplifies the very best of our nation - from our oldest recipient, 103 year old Rosemary Powell receiving an MBE for her charitable service, having spent over 97 years volunteering for the Royal British Legion - to the youngest at 20 years old, Menna Fitzpatrick. Menna, Team GB's most decorated Winter Paralympian, receives an MBE for her services to Paralympic Winter Sport alongside her guide, Jennifer Kehoe.
Awards include:
a damehood for actress Emma Thompson, for services to drama

a knighthood for Nobel Prize-winning novelist Kazuo Ishiguro, for services to literature

a damehood for Professor Mary Beard, Professor of Classics, University of Cambridge, for services to the study of classical civilisations

a knighthood for historian and broadcaster Professor Simon Schama

a knighthood for former footballer and manager Kenny Dalglish

a CBE for actor Tom Hardy

a CBE for television presenter and author Bamber Gascoigne

a CBE for journalist and Kate Adie

an OBE for boxer Anthony Joshua

an OBE for Winter Olympian gold medalist Lizzie Yarnold
This honours list continues to demonstrate the breadth of service given by people from all backgrounds.
In total 1,057 people have received an award:
920 candidates have been selected at BEM, MBE and OBE level: 318 at BEM, 392 at MBE and 210 at OBE

71% of the recipients are people who have undertaken outstanding work in their communities either in a voluntary or paid capacity

519 women are recognised in the List, representing 49% of the total

10% of the successful candidates come from a BAME background

5.7% of the successful candidates consider themselves to have a disability (under the Equality Act 2010)
The Prime Minister provided a strategic steer to the Main Honours Committee that the honours system should support children and young people to achieve their potential, enhance life opportunities, remove barriers to success and work to tackle discrimination.
Women
In the 100th anniversary year of women's suffrage, there are a range of awards for women at the forefront of their professions or who have championed women's rights. At the highest level (CBE and above), 41% of awards are for women - an increase from 39% at NY18.
Amongst these there is:
a Companion of Honour (CH) for soprano Dame Kiri Te Kanawa

a damehood for Dr Frances Carolyn Saunders, a distinguished engineer who has been instrumental in improving diversity within STEM and attracting young people from all backgrounds into engineering

a CBE goes to Margaret Casely-Hayford, a lawyer and businesswoman, for her services to charity in the UK and abroad, and her work to create diversity on boards

a CBE for award-winning writer Jeanette Winterson for services to literature

a CBE for Kanya King, the founder of the MOBO awards (in its 21st year)

an OBE for Vanessa Vallely, Managing Director of wearethecity.com, for services to women and the economy
Local Communities
In total, 71% of awards in the Queen's Birthday Honours List will go to people who have undertaken outstanding work in or for their local community.
Awards include:
a knighthood for Ber Helfgott, who has used his public profile as a Holocaust survivor to encourage community cohesion and combat intolerance

a CBE for Dr John Kirkby for his services to debt counselling as the founder of Christians Against Poverty

an OBE for Amandeep Madra for services to Punjabi and Sikh heritage and culture

an MBE for Michael Nield, for services to mountain rescue in Lancashire

an MBE for Dr Susan Martin, for services to mental health welfare in Liverpool

an MBE for Akeela Ahmed for her work with Muslim women as founder of the She Speaks, We Hear charity

an MBE for Halford Hewitt for his work as CEO of the Ipswich Housing Action Group, for his tireless work with the homeless in Ipswich
Education
Around 11% of honours are for work in education. The Honours Education Committee has recommended a knighthood for Professor Leslie Ebdon, the former director of Fair Access to Higher Education.
Other senior awards in education include CBEs for:
Professor Rosemary Davis, Professor Emeritus, Institute of Education, UCL

Professor Carole Hillenbrand, Emerita Professor in Islamic History, University of Edinburgh

Pat Smart, Chief Executive Officer, Create Partnership Trust

Professor Billie Hunter, Professor of Midwifery, Cardiff University
There is also an MBE for Carol Russell, chair of Hope Autism.
Health
Marking the NHS's 70th year, a wide range of contributors to the NHS have been recognised, with health sector recipients making up 12% of all honours. There is a rich breadth of vocations, innovative practice and outstanding patient care recognised throughout the NHS.
In total, 64 awards have been made to NHS recipients, including:
a damehood for Chief Scientific Officer Professor Susan Hill

an OBE for Veronica Donovan, Consultant Midwife at the Birmingham Women's and Children's NHS Foundation Trust

an MBE for Stephen Hudson at the Royal Devon and Exeter NHS Foundation Trust, who for 30 years has supported vulnerable people in Devon both through his work and through voluntary organisations

a BEM for Debra Smith, a specialist in palliative cancer care in Wythenshawe, Manchester

a BEM for surgeon Nadine Hachach-Haram, whose entrepreneurship through her company Proximie has helped to pioneer virtual access to surgical expertise for people living in remote areas, including plastic surgery for children in Peru
Elsewhere in the health sector, the Health Committee recommended:
a knighthood for Professor Christopher Ham, lately Chief Executive of the Kings Fund

a knighthood for Professor David Haslam, chair of NICE

a damehood for Professor Jane Dacre, President of the Royal College of Physicians
Also in the list is:
a CBE for Professor Robert Steele, Senior Research Professor at the University of Dundee for his work on the prevention, early detection and treatment of colorectal cancer

an OBE for Anne Moore, Senior Vice President, Royal College of Surgeons

an MBE goes to Dr Susannah Clarke, founder of Embody Orthopaedic, who has pioneered the use of 3D print technology to revolutionise minimally-invasive joint replacement procedures
Industry and the Economy
Industry and the economy make up 13% of this honours list. The Economy Committee recommended:
a damehood for Moya Greene, Chief Executive, Royal Mail

a knighthood for James Ratcliffe, Chair and Chief Executive of Ineos Chemical Group
A number of entrepreneurs and individuals supporting greater diversity are also recognised, including:
a CBE for Jo Malone, for services to the British economy and the GREAT campaign

a CBE for Thomas Ilube, for services to technology and philanthropy

a CBE for Brenda Trenowden, Global Chair, 30% Club
Science and Technology
Science and Technology recipients make up 3% of the list. There is:
a knighthood for Professor Christopher Dobson, Professor of Chemical and Structural Biology and Master, St John's College, University of Cambridge

a CBE for Principal Soil Scientist, Professor Lorna Dawson

a CBE for David Eyton, Group Head of Technology, BP plc
Sport
Awards for Sport make up 5% of the total recipients. There are awards to celebrate the success of individuals in the Winter Olympics and Paralympics including an OBE for Mike Hay, Chef de Mission, Team GB.
Alongside these there are OBEs for:
Roisin Wood, Chief Executive of Kick It Out

Director of Child Protection in Sport, Anne Tiivas
There is an also an OBE for footballer Jermain Defoe recognising his charitable work through the Jermain Defoe Foundation, and an OBE for Jeffrey Savory, for his support to disability sport.
Awards to grassroots sport include BEMs for:
Wyndham Davidson, a swimming coach in Shropshire and the West Midlands

Charlotte MacDonald, for her services to the Special Olympics and Riding for the Disabled
The Arts, Music and Dance
In the Arts, there is:
a knighthood for Dr Charles Saumarez Smith, Chief Executive of the Royal Academy, marking its 250th year

a CBE for Dinah Casson for her services to design

an OBE for curator, Gus Casely-Hayford
In music there is:
a knighthood for baritone Simon Keenlyside

a CBE for composer, pianist and conductor Thomas Ades

an OBE for prominent jazz musician, Julian Joseph
There is also an MBE for musician Niomi McLean-Daley, aka Miss Dynamite.
There are CBEs for:
Director of the Royal Ballet, Kevin O'Hare

Director of Music at the Southbank Centre, Professor Gillian Moore
There are MBEs for:
actor Gary Wilmot

underwater photographer, Alexander Mustard
Law and Order
In Law and Order, the awards include:
a knighthood for Mark Rowley, lately Assistant Commissioner of the Metropolitan Police Service

a CBE for Alexander Marshall, lately Chief Executive of the College of Policing

Dionne Collins, Chief Constable of West Yorkshire Police

Robert Ayling, Chair of HM Courts and Tribunals Service
Parliamentary
The Parliamentary and Political Service Committee has recommended damehoods for:
Eleanor Laing, MP for Epping Forest

Louise Ellman, MP for Liverpool Riverside
There are also knighthoods for:
David Natzler, Clerk of the House of Commons

Bernard Jenkin, MP for Harwich and North Essex
Published 8 June 2018