The Queen's Birthday Honours 2016
The Queen's Birthday Honours lists 2016, published today, recognise the achievements of a wide range of extraordinary people across the UK.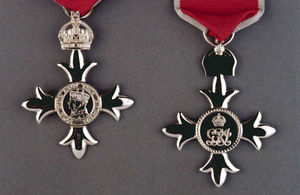 The Queen's Birthday Honours list published on 10 June 2016, on the occasion of Her Majesty's official 90th birthday, recognises the achievements of a wide range of extraordinary people right across the United Kingdom.
Each recipient exemplifies the very best of our nation – from the well-known and widely loved singer Dame Vera Lynn who is recommended for the Companion of Honour (CH) at the age of 99; to 21-year-old apprentice Gary Doyle who receives a British Empire Medal (BEM). Dame Vera has been honoured for her service to entertainment and years of charity work, including her involvement with a range of charities helping those affected by war, and her role as President of The Dame Vera Lynn Trust for Children with Cerebral Palsy. Gary is recognised after winning a gold medal at the World Skills event for his extraordinary plumbing and heating prowess.
This year's honours are the most diverse since the Order of the British Empire was founded in 1917 with the greatest ever number of recipients coming from a Black, Asian and Minority Ethnic (BAME) background. Amongst the recipients is Folashade Komolafe DL who receives a Member of the Order of the British Empire (MBE) for services to business in Milton Keynes. She has worked with a number of clients in the third sector to help them implement their corporate business, marketing and IT strategies.
In total 1,149 people have received an award:
1,004 candidates have been selected at BEM, MBE and OBE level. 312 at BEM, 477 at MBE and 215 at OBE
70% of the recipients are people who have undertaken outstanding work in their communities either in a voluntary or paid capacity
there are 538 successful women candidates in the list, representing 47% of the total
8.2% of the successful candidates (90 people) come from a BAME background: the greatest ever number of BAME recipients in an honours list
5.2% of the successful candidates consider themselves to have a disability under the Equality Act 2010
There are a number of well-known names being honoured in this list including a knighthood for singer and songwriter Rod Stewart; and a knighthood for Simon Robey, Chair of the Royal Opera House and Aldeburgh Music. There are CBEs for cricketer, Alastair Cook; classical pianist, Paul Lewis; and for Alan Shearer for his charitable services. There are OBEs for tennis player Jamie Murray and for Leon Smith, Captain of the Davis Cup Team. Further OBEs go to actor Brian Blessed; actor and broadcaster Adil Ray; and well-known broadcasting duo Anthony McPartlin and Declan Donnelly (Ant and Dec). There is also a CBE for journalist and broadcaster Janet Street-Porter.
Women
There are a number of prominent women who have received honours at the highest levels. There is a damehood for Dr Frances Lannon, lately Principal, Lady Margaret Hall, University of Oxford, for services to higher education, who has sought to improve access to applicants from state schools to Oxford University. Penelope Wilton, one of Britain's most versatile character actresses, receives a DBE while CBEs go to Professor Dinah Birch, Pro Vice Chancellor for Research, University of Liverpool; and Phillipa Woods, Chair of the Family Farmers Association.
Philanthropy
Recommendations from the field of philanthropy include a knighthood for businessman Philip Hulme, founder of Computacentre, one of the UK's largest IT services firms. The Hadley Trust he founded with his wife has donated over £30 million to improve the lives of disadvantaged people. Paul Marshall, Chairman, ARK Schools and Lead Non-Executive Board Member at the Department for Education, receives a knighthood. With his business partner he established an annual provision of £9,000 university bursaries for 40 students from low income backgrounds. Lady Susan Haughey, one of Scotland's leading entrepreneurs, receives a CBE. She was instrumental in establishing City Refrigeration Holdings, now employing 11,500 people with a turnover of £500 million based in Glasgow. In 2002, she set up the City Charitable Trust and has donated more than £7 million to deserving causes through the Trust.
Local communities
In total, 70% of awards in the Birthday Honours List will go to people who have undertaken outstanding work in or for their local community either in a voluntary or paid capacity. Those receiving the BEM include 75-year-old Jacqueline Murphy who has been key to keeping the tradition of the Pearly Kings and Queens alive in her local area of East London.
Education
Around 10.8% of honours are for work in education. The Education Committee has recommended 26 headteachers in total, including a damehood for Alice Hudson, Executive Headteacher, Twyford Church of England Academies Trust. Other awards in education include a knighthood for Dr Larry Siedentop, Emeritus Fellow, Keble College, University of Oxford; a knighthood for Professor Roger Scruton, often described as Britain's foremost philosopher; and, in the 400th year since Shakespeare's death, there is a knighthood for Professor Stanley Wells, Shakespearean Scholar and Honorary President of the Shakespeare Birthplace Trust.
Health
Health makes up 7.3% of all honours. There is a rich breadth of vocations recognised within the health sector including 7 nurses and 6 GPs at MBE level. Awards in health include a damehood for Dr Denise Coia, a clinical leader in the field of mental health; a knighthood for Professor John Strang, Professor in the Psychiatry of the Addictions and Director, National Addiction Centre, King's College London; and a knighthood for Professor Douglass Turnbull, Professor of Neurology, Newcastle University.
Industry and the economy
Industry and the economy make up 12.8% of this honours list. The Economy Committee recommended a knighthood for Terry Morgan, Non-Executive Chairman, Crossrail Ltd; and a damehood for Rotha Johnston, Chair, NI Screen, for services to the Northern Ireland economy.
A number of strong entrepreneurs are also recognised including an MBE for Lucan Gray, entrepreneur and owner, Custard Factory and Fazeley Studios; and MBEs for Martin Dickie and James Watt, the co-founders of BrewDog. And there are a number of strong entrepreneurs from the technology sector including OBEs for Sarah Wood, and Scott Button the co-founders and co-CEOs of Unruly; an MBE for Wendy Tan-White, British technology entrepreneur and angel investor; and MBEs for Barry Smith and Bonamy Grimes, co-founders of Skyscanner.
Science and Technology
Science and technology make up 3.3% of the total. Dr David Grant receives a knighthood for his outstanding contribution to engineering, technology and education. Dr Grant comes from a family background with no experience of higher education and his career began as an apprentice on Tyneside. DBEs go to Professor Caroline Dean, Project Leader, Cell and Developmental Biology, John Innes Centre; and Professor Anna Dominiczak, Regius Professor of Medicine and Vice-Principal and Head of College of Medicine, Veterinary and Life Sciences, University of Glasgow.
Sport
Awards for sport make up 4.5% of the total. The awards include MBEs for Martine Wright, sitting volleyball player and a victim of the 7/7 bombings; Emma Hayes, Manager, Chelsea Ladies; and Shauna Coxsey, champion climber.
Awards to grass-roots sport include a BEM for Linda Nicholson, founder and Coach of Peebles Netball Club, who coaches 11 netball teams; 5 school sides, 4 Peebles Netball teams and the Border District under-15s and -17s.
Law and order
In law and order, the awards include a CBE for Adrian Leppard, lately Commissioner, City of London Police.
Civil servants
The recommendations for state servants include a KCB for Martin Donnelly, Permanent Secretary, Department for Business, Innovation & Skills; a KCB for Dr Malcolm McKibbin, Head of the Northern Ireland Civil Service; a KCB for John Kingman, Second Permanent Secretary, HM Treasury; and a DBE for Louise Casey, Director General, Department for Communities & Local Government, for services to families and vulnerable people.
Parliamentary
The Parliamentary and Political Service Committee has recommended a CH for Lord Robert Smith KT for public service; a knighthood for Rt Hon Desmond Swayne, Conservative MP for New Forest West and Minister of State for International Development; a knighthood for Rt Hon Jeffrey Donaldson, MP for Lagan Valley, Democratic Unionist Party; a knighthood for Rt Hon Alexander Fergusson, former MSP for Galloway and West Dumfries, former Presiding Officer of the Scottish Parliament and Rural Affairs spokesperson for the Scottish Conservatives; and a knighthood for David Hamilton, former Labour MP for Midlothian.
And finally, there will be a double celebration in one household this year as a married couple are recognised in the same List. Joanna Basford, artist and entrepreneur, receives an OBE for services to art and entrepreneurship while her husband, James Watt of Brewdog, receives an MBE for services to the brewing industry.
Published 10 June 2016