The India and UK partnership
The Foreign Secretary has made a statement about building a stronger partnership with India following a meeting with Mr Salman Khurshid, Indian Foreign Minister for External Affairs.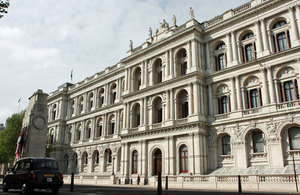 Speaking in New Delhi the Foreign Secretary, William Hague, said:
"I am delighted to return to India. I am very grateful to my new counterpart, His Excellency, Shri Salman Khurshid, for the warm welcome he has extended to me today. I am pleased to be among the first Foreign Ministers to have the chance to discuss with him the many pressing challenges that we face together.
"On our election in May 2010, the British government made clear that we would invest significantly in many ways in the UK-India relationship to build a stronger, wider and deeper partnership together. For us this is an essential pillar in our broader strategy to build far closer relations with the powers of the South and the East in the world. As I have often said, I believe that the 21st century more than any previous period will be shaped by India.
"Since 2010, our partnership has truly become stronger, wider and deeper. We are on course to hit our target of doubling trade by 2015. British companies are leading the way, investing in India in key sectors such as energy, telecommunications and education. The largest single foreign investments into India are British, by Vodafone and BP. This is a two-way process. Indian companies have chosen to invest more in the UK than in the rest of the EU combined and with great success, as Tata's investments in companies such as Jaguar Land Rover have shown.
"Beyond business, the finest minds in our two countries are increasingly working together for the benefit of both our nations, and for the world. Our government-led joint research funding has now passed £100 million compared to £1 million three years ago. I am delighted that each year over 30,000 ambitious young Indians choose the UK for their higher education. As home to four of the world's top ten universities, I am confident that Britain offers these students the very best in their pursuit of knowledge. I am also pleased by the progress we are making to strengthen our civil nuclear co-operation, both commercially and through our research institutions.
"We have also agreed a communique to steer our future cooperation on cyber security. This agreement confirms our shared commitment to the core principles of liberty, transparency, freedom of expression and the rule of law in cyberspace.
"Our diplomatic networks play a vital role in creating opportunities for partnership. Since 2010, we have agreed to open two new Deputy High Commissions in Hyderabad and Chandigarh. The British diplomatic presence in India is now more extensive than that of any other nation. We hope to develop this further over the coming years. And our recent decision to re-engage with the Government of Gujarat now offers us the chance to strengthen our ties across the breadth of India.
"Our partnership is not limited to co-operation on British or Indian soil. We have worked increasingly closely together on matters of international security, not only on cyber security but also in areas such as counter-terrorism, and the security of chemical, biological, radiological and nuclear materials. We have also worked closely together with India during her tenure on the United Nations Security Council, and we look forward to the time when she takes up a permanent seat. We also support Indian membership of the international export control regimes.
"I know we will discuss a range of foreign policy issues including Afghanistan and other issues in India's neighbourhood, where we greatly value India's counsel and co-operation. We will also discuss the situation in Syria where the British Government is appalled by the regime's brutal repression which has led to more than 30,000 people losing their lives. I welcome India's support for a stronger role for the UN in bringing an end to the violence. We are both committed to pursuing a peaceful political transition and working together to support the work of UN-Arab League Special Envoy Lakhdar Brahimi in his efforts to achieve this.
"So ours is a genuine partnership of equals between the UK and India that we have done a lot to build up over the past two and a half years. There are many more exciting opportunities and we look forward to taking this to the next stage, and to being a partner of choice for India in many areas over the years to come."
Published 8 November 2012