Press release
The Hive comes to Kew Gardens
Critically acclaimed UK Pavilion from Milan Expo 2015 finds new home on British soil from June 2016.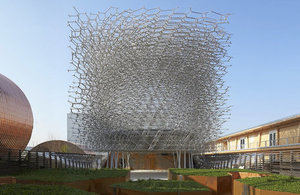 After a spectacular run as the centrepiece of the gold medal winning UK Pavilion at the 2015 Milan Expo UK Trade and Investment (UKTI) and the Royal Botanic Gardens, Kew, announced today (29 January 2016) that the stunning structure, The Hive, will take up its new home within Kew Gardens from June 2016.
Soaring 17 metres in the air, designed by Wolfgang Buttress and created by BDP, Simmonds Studio and Stage One, The Hive is an immersive, multi-sensory experience inspired by UK groundbreaking scientific research into the health of bees. Showcasing British creativity, innovation and leadership in overcoming global challenges, this magnificent aluminium structure will draw visitors into the space via a wildflower meadow, as though they were worker bees returning to the hive. The wildflower meadow will serve to build understanding and appreciation of these habitats, and their significance for insect pollinators.
Hundreds of glowing LED lights bring this 40 tonne lattice structure to life, while a beautiful symphony of orchestral sounds fills the air, with an atmospheric undercurrent of buzzes and pulses. Triggered by vibration sensors within a real beehive, the sound and light intensity within the pavilion increases as the energy levels in the living hive surge, giving visitors an incredible insight into the ever moving life of a bee colony.
As visitors wander through this continually changing space, they will begin a journey, exploring the vital role of bees and other pollinators in feeding the planet - of the 100 crop species that provide 90% of food worldwide, 70 are pollinated by bees.
Crucial links between food security and pollinators will come alive, as Kew scientists share their solutions for pollinators under pressure, from their innovative research into the plant chemicals in pollen and nectar that enable bees to overcome disease, to the development of high quality wildflower seeds by Kew's UK Native Seed Hub.
Richard Deverell, Director of the Royal Botanic Gardens, Kew said:
We are truly delighted to announce The Hive's move to Kew, both for its magnificent aesthetic appeal and for the resonance it has with our work – I can think of no better home for this remarkable marriage of architecture and science.

The Hive creates a powerful, immersive space for us to explore the urgent issues we face in relation to pollinators, their intimate relationships with plants and their vital role in helping us feed a rapidly growing population. To be able to bring those stories alive here at Kew – a centre of scientific knowledge and expertise and one of the planet's most biodiverse city landscapes – is a true honour.
Lord Maude, Minister of State for Trade and Investment, said:
The UK Pavilion at the Milan World Expo 2015 was an outstanding success. It was visited by over 3.3 million people in just 6 months, with a further 450 million people viewing it across the world's media and online, and it received multiple awards, including the Expo's gold medal for best architecture and landscape design.

Our business legacy is already secured with over £800 million in business wins from the global Grown in Britain and Northern Ireland business programme. As a physical legacy, it is fantastic that more of the UK public will have the opportunity to experience the Hive for themselves in the perfect setting at Kew. The Expo focused on sustainable ways of feeding a growing global population whilst protecting our environment: I cannot think of a better home for it now that the Expo is over.
Lord Gardiner of Kimble, Lords Spokesman for the Department for Environment, Food and Rural Affairs said:
Pollinators like bees and other insects are integral to our natural environment, and play a vital role in our food industry.

The Hive is an extraordinary structure, which symbolises how the UK champions the protection of bees and nature. I am delighted to see it make a return to the UK at Kew, where it will continue to amaze the public and raise awareness of how vital pollination is.
Notes to editors:
To reflect the Expo 2015 theme of "Feeding the Planet, Energy for Life" the UK Pavilion highlighted the groundbreaking UK research in pollinators, principally the bee, and their role in the global food chain, including by renowned scientist Dr Martin Bencsik, who has been conducting pioneering research into bee vibration and communication patterns.
During its time in Milan, the Hive structure proved a huge success: attracting millions of visitors and winning the gold award for architecture and landscape. It showed a powerful symbol of UK strengths in innovation, creativity and global leadership to a worldwide audience, whilst helping to drive exports and attract international investment.
Pollinators are an essential part of the UK environment and play a crucial role in food production, which is why a priority for this government is protection to help bees and other pollinators thrive. Read more on the National Pollinator Strategy
For more information please contact the Royal Botanic Gardens, Kew Press Office on 020 8332 5607 or email pr@kew.org.
The Hive has won the following awards:
Gold Award for Architecture and Landscape – BIE Awards, UK Pavilion Milan Expo 2015
Best Pavilion Architecture Award – Italian Association of Architects and other Italian
National Construction and Landscape bodies, 2015, UK Pavilion Milan Expo 2015
Best Public Use Project with Public Funding – Blueprint Awards, UK Pavilion Milan Expo 2015
Best of Best for Event/Exhibition – Iconic Awards, UK Pavilion Milan Expo 2015
Best Landscape Scheme, High Budget – Darc Awards, UK Pavilion Milan Expo 2015
Winner 'Lighting Projects' – WIN Design Awards, UK Pavilion Milan Expo 2015
Best Lighting Design – FX Design Awards, UK Pavilion Milan Expo 2015
Building of the Year – Manchester Architects Awards, UK Pavilion Milan Expo 2015
Best Completed Community Building – Manchester Architects Awards, UK Pavilion Milan Expo 2015
Highly Commended, Landscape Award – WAN Awards, UK Pavilion Milan Expo 2015
Highly Commended, Temporary Landscape Design – Landscape Institute Awards, UK Pavilion Milan Expo 2015
Commended, Exhibition Lighting and Temporary Installations – AL Awards, UK Pavilion Milan Expo 2015
Best Exhibit Winner - Exhibitor Magazine
Iconic Award for 2015 – Best of the Best for Event/Exhibition. German Design Council
The Royal Botanic Gardens, Kew is a world famous scientific organisation, internationally respected for its outstanding collections as well as its scientific expertise in plant diversity, conservation and sustainable development in the UK and around the world. Kew Gardens is a major international and a top London visitor attraction. Kew's 132 hectares of landscaped gardens, and Kew's country estate, Wakehurst, attract over 1.5 million visits every year. Kew was made a UNESCO World Heritage Site in July 2003 and celebrated its 250th anniversary in 2009. Wakehurst is home to Kew's Millennium Seed Bank, the largest wild plant seed bank in the world. Kew receives approximately just under half of its funding from government through the Department for the Environment, Food and Rural Affairs (Defra). Further funding needed to support Kew's vital work comes from donors, membership and commercial activity including ticket sales.
Wolfgang Buttress creates sculptures which seek to define and celebrate a sense of place. His work alludes to histories, traces and memories, which are both personal, contextual and aim to express the sublime. The artworks establish a connection to something timeless and elemental, increasingly, he has drawn inspiration from nature, collaborating with experts to explore and interpret scientific discoveries.
Wolfgang has created and exhibited artworks in the UK and internationally. His awards include the Japanese Kajima Gold Award for 'Space' (2014) and the Structural Steel Award for projects under £2 million (2013). More recently his UK Pavilion design created for the 2015 Milan Expo was awarded the BIE gold award for 'best pavilion architecture and landscape'.
Published 29 January 2016