Press release
The Foreign Secretary meets Sri Lankan Foreign Minister
William Hague and G.L. Peiris discussed media freedom, human rights & Commonwealth values at Commonwealth Heads of Government meeting.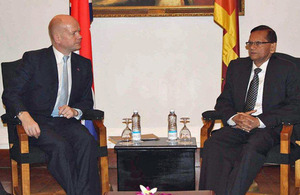 The following is attributable to an FCO spokesman:
Today the Foreign Secretary met with Sri Lankan Foreign Minister, G.L. Peiris, during the Commonwealth Heads of Government Meeting in Colombo, Sri Lanka. They discussed the need for reconciliation in Sri Lanka in order to secure peace for the long term.

The Foreign Secretary raised the important issue of media freedom, expressing serious concern after journalists from the UK's Channel 4 news were prevented from reaching the North of Sri Lanka. They talked about the future of the Commonwealth and the importance of countries adhering to the Commonwealth Charter and its values.

The Foreign Secretary repeated the UK's view that an independent, thorough and credible investigation into allegations of violations and abuses of international humanitarian and human rights law by both sides during the military conflict was required. If this did not take place soon, an international investigation would be needed.
Further information
Follow the UK's updates from the Commonwealth Heads of Government Meeting
Follow the Foreign Secretary on twitter @WilliamJHague
Follow the Foreign Office on twitter @foreignoffice
Follow the Foreign Office on facebook and Google+
Published 13 November 2013