Press release
The Department of Health appoints three new director generals
The Department of Health today announced three appointments to its senior team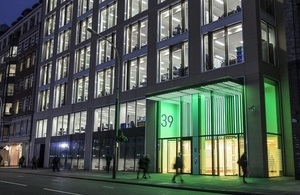 The Department of Health today announced three appointments to its senior team. 
Dr Felicity Harvey CBE, currently Director of the Implementation Unit in the Cabinet Office, will take up the post of Director General for Public Health.  She will lead the Department's public health teams and will work closely with Public Health England, the NHS Commissioning Board and local government.**
Charlie Massey, currently Director for Ageing Society and State Pensions at the Department of Work and Pensions (DWP), will take up the post of Director General for External Relations.  He will be responsible for the Department's relations and communications with external stakeholders - from members of the public, to health unions, to Parliament.
Karen WheelerCBE, currently Director for the Department of Health's transition programme, will take up the post of Director General for Group Operations and Assurance.  She will be responsible for delivering change within the Department itself, human resources, corporate services and managing the overall performance and capability of our Arm's Length Bodies.
Permanent Secretary Una O'Brien said:
"I am delighted Felicity, Charlie and Karen are joining our senior team.  They will bring a huge wealth of expertise, passion and strong leadership to the Department.  This now completes appointments to the Department of Health new top team, and gives us a strong base from which to support Ministers and the Government on improving health and care."
The three Director Generals were chosen following a national open competition. The appointments have been approved by the Prime Minister and by the Secretary of State for Health, Andrew Lansley. It is expected that the appointees will take up their posts shortly.
Notes to Editors
For further media enquiries call the Department of Health Newsdesk on 020 7210 5221.
These three roles are part of the new Departmental structure of five Director Generals, instead of twelve as in 2010. 
Two Director Generals are already in place - Richard Douglas the Director General for Finance, Policy and Strategy and David Behan the Director General of Social Care, Local Government and Care Partnerships. 
The three new Director Generals will report to Una O'Brien, Department of Health Permanent Secretary.
The Department's other senior leaders who report to David Nicholson will remain in the Department supporting transition until the new organisations are established.
Biographies
Dr Felicity Harvey **CBE**
Felicity is a Department of Health civil servant who, on secondment to the Treasury, established and led the Treasury's Performance and Reform Unit.  She drove efficiencies and change right across Government, supporting all other departments deliver their Spending Review commitments.  Her previous roles include:
2011-present          Director, Performance and Reform Unit,HMT now the Implementation Unit, Cabinet Office
2009-2010             Director, Prime Minister's Delivery Unit,HMT
2002-2009             Director/Head of Medicines, Pharmacy & Industry, DH
Charlie Massey
Charlie recently led the work on State Pensions, Ageing, Extended Working Life and pensions stakeholder management at DWP.  He has extensiveWhitehallexperience and recently led work on a Green Paper on reforming the State Pension.  Prior to that, Charlie led DWP's 2008 Capability Review to identify the Department's successes and build on them.  His previous roles include:
2008-present          Ageing Society and State Pensions Director, DWP
2008                         Capability Review Director, DWP
2005-2008              Executive Director, the Pensions Regulator.
Karen Wheeler **CBE**
Karen joined the Department of Health in August 2010 to establish and lead the Transition Programme for the Health and Social Care Bill.  Leading a large, complex high profile restructuring of the NHS, Department of Health, Arms Length Bodies, and Public HealthEngland.  Her previous roles include:
2010-present          Transition Director, DH
2009-2010             Digital Delivery Director, Cabinet Office
2008-2009             Delivery Director, Access to Justice, MoJ
2006-2008             Change Director, MoJ
Published 29 February 2012