News story
The business in me
Wendy Hallett, founder and managing director of Hallett Retail and member of the Women's Business Council on life as an entrepreneur.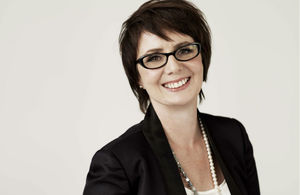 I never really had a burning ambition to be an entrepreneur, but looking back the entrepreneurial spirit was in me from a young age, when at 14 I convinced the local newsagent in my home town of Colchester to let me make and sell sandwiches.
After leaving university I spent 13 years with retail giant, Arcadia. I started as a graduate trainee and quickly progressed to store manager and area manager roles, including overseeing Topshop's Oxford Street flagship store, all of which was fantastic training and experience.
I decided to set up my own business in 1999 when my children were very young. My motivation was the need to juggle work and family life. I wanted flexible working hours and I knew I had hit upon a good idea with the concept of taking smaller brands into large department stores, so I set up on my own. Originally, I did not think about becoming very successful and expanding.
I put my success down to an entrepreneurial streak, a strong work ethic and a love of what I do. I also put my success down to playing to other people's strengths and employing people to do the things that I am not good at, and that includes my husband, Kevin, who joined me in the company as Financial Director in 2008, and is now chief operating officer.
My advice to anyone thinking of setting up their own business is to do something you are passionate about and that you know. Running your own business can be all consuming, but if you are passionate about what you are doing, it does not seem like work. Make use of the advice and help of experts in areas you are not strong at and learn from role models. Also, setting up a business with the sole intention of making money rarely works. Do what you love, work hard and smart and the rewards should come.
Further information
Published 22 February 2013