News story
Thatcher's school is listed by Heritage Minister Ed Vaizey
Decision to protect school in Lincolnshire follows advice by English Heritage highlighting the school's architectural and historic interest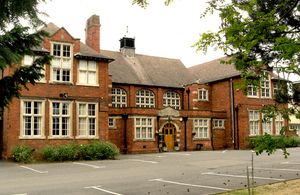 The school that Margaret Thatcher attended has been listed grade II following advice by English Heritage highlighting the school's architectural and historic interest.
The Kesteven and Grantham Girls' School in Lincolnshire was built in 1910 and has remained relatively unchanged since Margaret Thatcher received her secondary education there between 1936 and 1943.
Commenting on the listing, Ed Vaizey said:
"This is an outstanding example of an Edwardian grammar school with an eclectic architectural character and built by the architect H.H. Dunn who specialised in education buildings. But as well as its architectural interest the school has huge historical interest, and the education Margaret Thatcher received there was a formative experience which went on to affect her life and political convictions."
Emily Gee, Head of Designation at English Heritage said:
"This handsome Edwardian grammar school possesses real historic interest for its association with Great Britain's first female Prime Minister. Margaret Thatcher's connection to her home town was a poignant one, and her views on education were no doubt shaped by her experiences in this building, where her maiden name is recorded on the head girl board."
The listing comes as part of our initiative to protect and conserve England's historic environment for the benefit of present and future generations.
Find out more about our policy to protect, conserve and provide access to the historic environment in England.
Published 22 August 2013
Last updated 22 August 2013
+ show all updates
Changed the summary so that the placement on the homepage is more informative.
First published.