Press release
Thames Valley and West Country Rail passengers in line for extra seat boost
Country's busiest rail routes set to benefit from extra seats.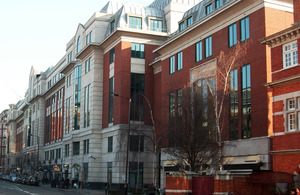 Passengers on some of the country's busiest rail routes are set to benefit from extra seats Rail Minister Theresa Villiers announced today (22 November 2011). Passengers in the Thames Valley will benefit from nearly 4,500 additional seats each day into and out of London Paddington. The majority of these services will also provide additional capacity into Reading.
The extra seats are being added thanks to government funding for an additional 48 carriages on First Great Western services which run through Reading and the Thames Valley and into London Paddington as well as in Bristol and the far south west of England.
Theresa Villiers said:
We are determined to tackle overcrowding and provide better, more comfortable journeys for passengers. These extra carriages will enable existing services to be lengthened which will significantly increase their capacity.

Completion of the vital Crossrail and Thameslink projects in London will also provide more capacity for passengers. In addition, we are investing in the electrification of the Great Western Main Line between London, Bristol, Cardiff, Oxford and Newbury and a massive reconstruction of Reading Station.

Adding carriages to some of the busiest routes in the country is a key part of the major programme of rail capacity expansion which we have promised to deliver. This is a vital way to respond to passenger concerns about crowding and provides important support for economic growth.
The extra carriages, which are planned to come into service in time for the London 2012 Olympic Games, will be deployed on morning and evening peak services serving the capital and commuting towns such as Bristol, Reading, Basingstoke, Ealing Broadway, Slough and Maidenhead. Two of the 48 carriages will be used to increase capacity on crowded trains between Truro and Falmouth and Exmouth and Torbay.
Notes for editors
The extra carriages being provided thanks to government support will see 15 Mark III buffet-car carriages converted to standard class to provide longer trains on services into Bristol, Reading and London Paddington.
25 Class 180 carriages will be leased and will then release suburban rolling stock to enable shorter distance commuter trains to be lengthened into Paddington.
Six Class 150 carriages will used on services running between Reading and Basingstoke and thereby allow the stock currently on that route to lengthen suburban trains on the Thames Valley into Paddington.
Two Class 150 carriages will be added to Bristol services allowing two Class 153s to be cascaded onto Truro to Falmouth and Exmouth to Torbay services.
The total cost of providing these services until the expected end of the First Great Western franchise in April 2013 is £28.9 million.
The extra carriages will create a total of 2,266 seats in the morning three hour peak and 2,233 seats in the evening three hour peak into and out of London Paddington.
Other locations will also benefit including Reading, which will see 1,483 extra seats in the morning peak and 1,731 extra seats in the evening peak , Bristol will see 588 extra seats in the morning peak and 336 extra seats in the evening peak. Truro and Torbay will see an increase of 271 seats in the morning peak and 375 seats in the evening peak.
The carriages providing additional capacity to Falmouth, Truro and Torbay are being part funded by Devon and Cornwall County Councils as well as a contribution from the Devon and Cornwall Community Rail Partnership.
Rail media enquiries
Media enquiries 020 7944 3021
Out of hours media enquiries 020 7944 4292
Switchboard 0300 330 3000
Published 22 November 2011