News story
Tate Modern signs corporate sponsorship deal with Hyundai Motors
Tate Modern signs the largest and longest corporate sponsorship deal in its history with Hyundai Motors.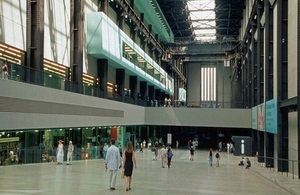 Vice Chairman Euisun Chung of Hyundai Motors announced an 11 year partnership with Tate Modern to realise The Hyundai Commission, a new series of site-specific installations by contemporary artists in the iconic Turbine Hall, beginning in autumn 2015.
Since Tate Modern opened in 2000, the Turbine Hall has hosted some of the world's most memorable and acclaimed works of contemporary art. Previous commissions include an enormous Louise Bourgeois spider, Olafur Eliasson's The Weather Project, where every day hundreds of visitors would lie down and bask in the beautiful fake sunlight, Carsten Höller's hugely enjoyable helter-skelter slides and Doris Salcedo's Shibboleth – a 167-metre crack in the floor.
In addition to this new partnership, Hyundai Motors have decided to support a major acquisition for Tate's collection, consisting of nine key works by the renowned South Korean artist, and the founder of video art, Nam June Paik (1932-2006).
The British Ambassador to the Republic of Korea, Scott Wightman said:
I am delighted that Hyundai Motors have committed to this long-term partnership with Tate Modern. So soon after the State Visit of President Park it reaffirms the friendship between the Republic of Korea and the United Kingdom and the emphasis that we have rightly placed on working together to develop creativity in our two countries.
Sir Nicholas Serota, Tate's director, called it a landmark partnership.
It marks a new chapter for Tate but is also a great springboard from which other things will grow.
Tate Modern opened in 2000 and has quickly become one of London's leading cultural venues, one of the United Kingdom's top three tourist attractions and a world leading gallery for international modern and contemporary art. Since it's opening, an estimated 40 million people have visited Tate Modern.
Published 20 January 2014