World news story
Taste of British craft beer in Slovenia
The British Embassy Ljubljana will host a British Craft Beer Festival in Ljubljana between 7 and 9 September.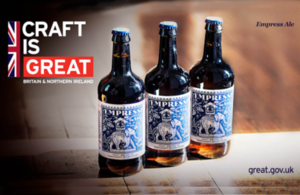 The British Embassy Ljubljana is hosting a festival of British craft beer from 7 to 9 September at Kino Šiška in Ljubljana. The festival will create a platform for about 20 UK companies to meet distributors, pubs and beer shops from Slovenia and the region (Italy, Austria, Croatia). It will also offer the opportunity to taste premium British craft beer and ale.
Slovenian and companies from the region are invited to apply for business-to-business meetings to explore opportunities for business cooperation with UK breweries presented at the festival.
The social part of the festival will include a discussion about British craft beer and real ale, presented by Jane Peyton, a drinks expert, alcohol historian and Britain's first Beer Sommelier of the Year 2014. She will also run a beer tasting workshop where festival goers will have a chance to learn what makes a great beer.
Beer lovers will enjoy their pints to a great backdrop of contemporary British music, aired by Radio Terminal – British Council's Selector syndicate - and played live by and up and coming British band.
Craft Beer Festival programme:
7 September
09:00 – 16:00: Business is GREAT B2B meetings
17:00 – 23:00: Festival open
17:00 – 18:00: Official opening
21:00 – 23:00: IDLES (UK) concert
8 September:
09:00 – 16:00: Business is GREAT B2B meetings
17:00 – 23:00: Festival open
18:00 – 19:00: Discussion: Craft beer and real ale with Jane Peyton
20:00 – 23:00: Business is GREAT Informal B2B networking event
9 September:
12:00 – 23:00: Festival open
16:00 – 17:30: Tutored beer tasting with Jane Peyton
18.00 – 19:00: Blind tastings for British brewers
Programme in Slovene language (PDF, 594KB, 1 page)
Further information
Find more information about the festival and breweries taking part in promotion of premium British beer at our Facebook page.
The festival is a part of a wider campaign the British Embassy Ljubljana is running in 2017, which aims to strengthen our bilateral links with Slovenia through celebrating 25 years of partnership in wide area of interests, including trade. Other activities include:
trade events run by our partner British-Slovenian Chamber of Commerce
celebrating cultural connections with the help of the British Council Slovenia
promoting UK educations with the help of our Chevening Alumni networks
high level visits to underline our commitment to bilateral cooperation, including in defence and security.
Published 27 July 2017