Press release
Targeted action for Community Clear Up day as part of national spring clean
Communities are today rolling up their sleeves to participate in a national spring clean to help spruce up our favourite public places in time for summer.
Hundreds of events will take place across the country as part of the first-ever Community Clear Up day, which marks the first day of spring. This co-ordinated local action has been arranged by grassroots activists including community and faith groups, councils and parishes, and schools and sports teams.
The initiative was planned by the government and could now become an annual event with efforts focusing on anywhere that can turned from eyesore to assets including city centres, high streets, villages and parks.
Local Government Minister Kris Hopkins said:
It is heartening how communities across the country have answered this call to arms to help liberate their local areas from the litter louts who have blighted them for so long.

People of all ages and backgrounds who take great pride in their local communities are coming together to send a clear message today that littering will not be tolerated. Litter is a persistent, costly and avoidable problem and it is only right we take collective responsibility to end this scourge.
Environment Minister Dan Rogerson said:
Litter has a huge impact on the quality of our streets and public spaces and we all have a responsibility to keep our communities tidy.

While we have made great progress in recent years, we still need to get to a place where everyone takes responsibility for their own actions and their own rubbish – initiatives such as this help us achieve that by bringing individuals and communities together to take pride in their areas, helping us to build a strong economy and a fairer society.
TV presenter Kirstie Allsopp, who is an anti-litter campaigner and ambassador for Keep Britain Tidy, said:
It is great to see a national clear up day taking place and wonderful that so many schools, communities, councils and businesses are taking part. Litter is everyone's problem and everyone has a role to play in tackling it, both by clearing it up and changing their behaviour.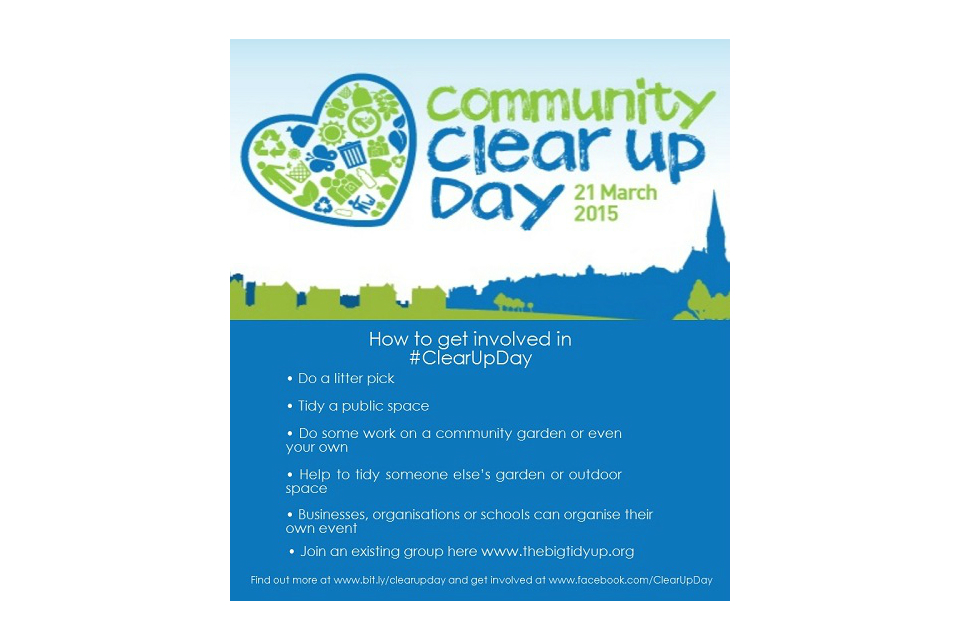 Further information
The latest figures suggest councils in England spend more than £800 million every year on street cleansing.
Ministers believe that communities want to take pride in their local area and public spaces. They believe encouraging people to make this a fun activity bringing groups together with a common interest as well as freeing up millions of pounds that can be spent on other vital public services.
The government has provided a toolkit of posters and leaflets that can be tailored for each community and in the coming weeks it will also bring together great examples of what has already been done to tackle litter louts in local areas.
To find out more about Community Clear Up day visit our Facebook page or look at the Twitter hashtag #ClearUpDay
Office address and general enquiries
2 Marsham Street
London
SW1P 4DF
Contact form http://forms.communiti...
General enquiries: please use this number if you are a member of the public 030 3444 0000
Published 21 March 2015