News story
Engaging with women
Equalities Ministers meet with women's organisations to discuss best practice.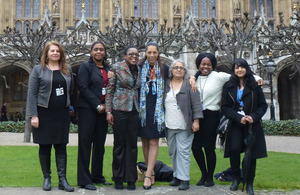 On 6 March, Helen Grant met with women from Imkaan, Southall Black Sisters, Forward, IKROW, the CPHVA and freelance consultant Tesse Akpeki to celebrate International Women's Day. The discussions were focused on raising girls' aspirations and ending violence against women and girls (VAWG).
On 20 March, Secretary of State Maria Miller met with women from organisations including: Working Families, Mumsnet, Maternity Action, the Fatherhood Institute and Gingerbread to discuss parenting and families and in particular how to enable fathers to play an equal role in parenting.
The discussion covered pregnancy discrimination, women's rights to breastfeed on returning work, the role of fathers in early childcare, flexible working and the introduction of shared parental leave from 2015.
These meetings form part of an ongoing programme to engage directly with women and women's organsations in order to hear about current issues and concerns and to use these insights to help develop women's policy.
Published 6 March 2013