Press release
Tackling modern slavery in the UK
Wales Office Minister Baroness Jenny Randerson meets Operation Imperial team at Gwent Police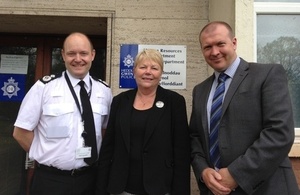 Wales Office Minister Baroness Jenny Randerson has today (29 April) visited Gwent Police to see the action being taken to tackle modern slavery in the UK.
During the visit Baroness Randerson was briefed on the work of Operation Imperial – a unit set up to investigate alleged offences of slavery and servitude.
Operation Imperial is the largest inquiry of its kind in the UK. The ongoing investigation has led to the recovery of a number of vulnerable adults and arrests have been made.
Detective Superintendent Paul Griffiths briefed the Minister on the progress and the challenges of investigation .
Wales Office Minister Baroness Randerson said:
"Human trafficking and slavery are wicked crimes. They denigrate human beings and represent an unacceptable abuse of human rights.
"Tackling this hidden crime is an immense and complex challenge. However, as I have seen today, a great deal of effort and extremely good work is being undertaken by Gwent Police and agencies UK-wide to address and stamp out this abhorrent issue.
"It is clear that many of these crimes have a cross-border element and that is why I am very clear that it is important that we continue to cooperate with our European colleagues and neighbourhoods to tackle these offences. Criminals don't respect international borders so we must work closely with our European counterparts to bring them to justice.
"Our efforts must be constantly reviewed. We will continue to work closely with the Welsh Government and law enforcement teams and galvanise our efforts to eradicate modern slavery."
Detective Superintendent Paul Griffiths said:
"Operation Imperial is a major investigation into potential slavery and servitude offences which exist in our society today. I feel it is important to raise awareness, identify the exploitation and do all we can to protect some of the most vulnerable people in our communities.
"These victims are sometime unaware they are victims or are in fear of those controlling them. Sometimes their fear extends to prevent them from seeking help from the authorities and so I would urge anyone who suspects that someone is being treated in this way to contact 101 and help them."
The visit comes as the UK Government takes action to end modern slavery and protect its victims.
In December 2013 the Home Secretary Theresa May MP published a draft Bill on Modern Slavery – the first of its kind in Europe – which will ensure the harshest penalties for offenders.
Further information - Tackling slavery
The draft Modern Slavery Bill sets out provisions to:
Consolidate and simplify existing slavery and trafficking offences to provide clarity and focus when investigating and prosecuting traffickers
Increase the maximum sentence available from 14 years to life imprisonment so that offenders receive the punishments they deserve
Introduce Slavery and Trafficking Prevention Orders (STPOs) and Slavery and Trafficking Risk Orders (STROs) to restrict the activity of those who pose a risk and those convicted of slavery and trafficking offences so they cannot cause further harm
Create a new Anti-Slavery Commissioner role to galvanise law enforcement efforts to tackle modern slavery; and
Establish a legal duty to report potential victims of trafficking to the National Crime Agency (NCA) to build a clearer picture of the nature of this hidden crime.
Published 29 April 2014
Last updated 1 May 2014
+ show all updates
Added translation
First published.