Tackling a summer drought begins now
Water companies and the public need to plan now for a summer drought.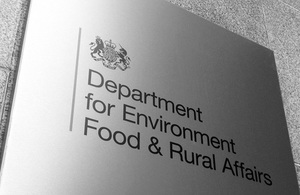 Water companies and the public need to plan now for a summer drought to minimise the impacts of a potentially dry winter, Environment Secretary Caroline Spelman said today.
The drought that has affected central and eastern England this year could continue until next summer and the south east will be at risk of drought if sustained rainfall does not replenish water levels that were depleted during one of the driest springs on record.
Environment Secretary Caroline Spelman said:
"It may have surprised people that we've granted Anglian Water a drought permit in November, but it is a warning of the need to take action now after the country has seen the driest twelve months since records began. Everyone has worked hard to stave off any threat of hosepipe bans this year, and help keep our rivers flowing.
"Unfortunately, if we have another dry winter, there is a high risk that parts of the country will almost certainly be in drought next summer - so it's vital we plan ahead to meet this challenge.
"Droughts are not new, but we may face a future with less rainfall and less certainty about when that rain will fall. That is why we will shortly be setting out our plans to ensure we have a safe and secure water supply in the future."
Environment Agency chairman Lord Chris Smith said:
"'Today's Environment Agency report urges all water users - especially farmers, businesses and water companies - to plan carefully how they store, use and share water.
"As we have seen over the spring and summer, drought has serious impacts on the environment, especially for wildlife, and we will continue to work with others to ensure a secure water supply, balancing the needs of people, businesses and the environment."  
The South East of England is now at a high risk of drought due to continued low rainfall and central, eastern and south eastern England are unlikely to see a full recovery from drought conditions during 2012.  Parts of the rivers Colne, Nene, Trent and Kennet are also nearing the lowest levels ever recorded for November.
A report published today by the Environment Agency makes further recommendations to water companies and other water users, such as farmers, on measures they can take to minimise the impacts of a longer term drought. The recommendations include:
Water companies stepping up leak detection to make sure leakage is keep under control and keeping their customers informed of their situation and encouraging  them to use water wisely;
Farmers planning ahead for their irrigation needs, including options for scheduling their irrigation, filling their winter storage reservoirs and working with others through local water abstractor groups to share water resources; and
Livestock farmers planning ahead for fodder and bedding supplies in light of prolonged dry conditions.
Water companies that are facing an increase risk of drought are taking the following actions:
Anglian Water have been issued with a drought permit to refill one of its reservoirs and will continue to work to avoid any hosepipe restrictions next year.
Severn Trent Water will need to apply for a drought permit if the Tittesworth Reservoir does not refill by spring next year.  Severn Trent Water will continue to explore engineering solutions to avoid any restrictions next year.
South East Water is likely to apply for a drought order.
Actions taken by all other water companies are also outlined in the report.
Defra is also working with the agricultural and food sectors to help them adapt to climate change, improve irrigation technology, develop more water efficient crops, develop markets for drought-affected produce.
The Environment Agency will reassess the likelihood of a prolonged drought, along with any further recommendations and report in early 2012.
Notes to Editors:
British Waterways, the Met Office, the National Farmers Union, Natural England, the UK Irrigation Association, Water UK and various water companies were involved in compiling the Environment Agency's Drought Prospects for winter 2011/2012 report available here: http://www.environment-agency.gov.uk/homeandleisure/drought/31749.aspx.
Published 1 December 2011