Syrian chargé d'affaires summoned to Foreign Office
Following the horrifying massacre of innocent civilians in Houla, Foreign Secretary William Hague has instructed that the Syrian chargé d'affaires be summoned to the Foreign and Commonwealth Office.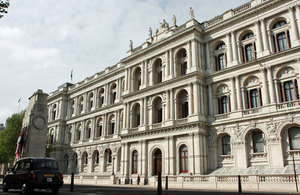 On Monday 28 May he will meet Political Director Sir Geoffrey Adams who will make clear the UK's condemnation of the Syrian regime's actions.
Speaking on Saturday, the Foreign Secretary said:
"There are credible and horrific reports that a large number of civilians have been massacred at the hands of Syrian forces in the town of Houla, including children.
"Our urgent priority is to establish a full account of this appalling crime and to move swiftly to ensure that those responsible are identified and held to account. We are consulting urgently with our allies on a strong international response, including at the UN Security Council, the EU and UN Human Rights bodies. We will be calling for an urgent session of the UN Security Council in the coming days.
"The Assad regime must ensure full and immediate access to Houla and other conflict areas in Syria for the UN monitoring team, and cease all military operations in full compliance with Joint Special Envoy's Kofi Annan's six-point plan."
Published 27 May 2012