Syria: UK welcomes response to UN funding call
International Development Secretary Justine Greening has welcomed the conference response to the humanitarian crisis in Syria, as international donors promised in excess of the $1.5bn UN funding requested at a pledging conference in Kuwait today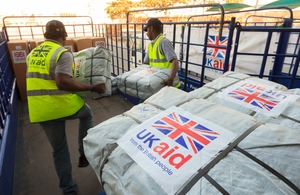 International Development Secretary Justine Greening has welcomed the conference response to the humanitarian crisis in Syria, as international donors promised in excess of the $1.5bn UN funding requested at a pledging conference in Kuwait today.
The UN launched its biggest ever short term appeal in December, but until today had received only a fraction of the funding it needed.
Justine Greening, who attended the conference in Kuwait today, also met Syrian refugees in Jordan at the weekend. She had warned that the Kuwait conference was a critical moment where international donors had to step up and meet the funding shortfall.
With funding announced in Jordan and in Kuwait today, the UK has now committed £71 million. The total raised today in Kuwait will support UN efforts to help provide shelter, medical aid, food and clean water to millions in need, both inside Syria and refugees in neighbouring countries.
Speaking from Kuwait, International Development Secretary Justine Greening said:
The challenge set out before the Kuwait conference was clear - countries needed to stump up the cash - and the international response today has been just what was needed.

It's great that the international community has come together to meet today's target, with substantial contributions from regional players. This funding will provide a vital lifeline of support to both refugees and ordinary Syrians still in their own country, but caught up in a terrible crisis not of their own making.
Published 30 January 2013