Syria: Food, tents and medicine for growing refugee crisis
The UK will provide £21 million in new humanitarian aid to help deliver lifesaving winter clothing, food and medicine for those affected by the crisis in Syria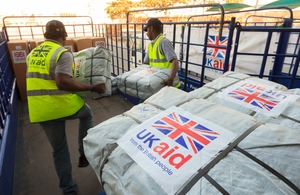 International Development Secretary Justine Greening announced the £21 million of support today as she met refugees near the Syrian border in Jordan.
£10 million of the new funding from the UK will help Jordan cope with the growing number of Syrian refugees, as thousands continue to cross its borders daily.
The remaining funds will provide vital aid to those affected by the crisis in Syria and across the region. This can help provide refugees in the region with vital supplies such as tents and blankets while winter continues, as well as helping to treat tens of thousands of critically injured and sick people inside Syria.
During her visit, Justine Greening travelled to the Za'atari refugee camp as well as visiting a community hosting Syrians in Mafraq - the nearest town to Za'atari - where local people have welcomed refugees in to their homes. She also saw how UK support had helped to improve clean water and sanitation facilities for the community.
Assad's regime continues to wage war against its own people. Sixty thousand Syrians have been killed, 4 million are in desperate need and more than 2 million are internally displaced. The conflict is drawing in extremist influences and risks spreading beyond Syria's borders.
Speaking from Mafraq in Jordan, Development Secretary Justine Greening said:
My visit to Jordan today has given me the chance to see first-hand the incredible generosity of spirit that ordinary Jordanians have shown in opening their homes to complete strangers in need.

It's a story repeated in towns and villages in Syria's neighbours across the region and I salute these ongoing efforts from governments and host communities alike - but we cannot and must not leave them to shoulder this response alone.

This is a man-made crisis. That man is Assad.
The £21 million in new funding announced today means the UK has now provided £89.5 million in humanitarian aid for Syria, but Ms Greening warned that other donors were still failing to deliver the help needed to prevent an escalating humanitarian crisis, despite the UN now launching its biggest ever short-term appeal. She called on the international community to step up and help to meet the shortfall at the UN High Level pledging conference that will take place in Kuwait on 30 January.
Justine Greening added:
The UK and a handful of others have consistently led the way in responding to this crisis. But while a small number are doing a lot, the vast majority are still not doing enough. This is simply not acceptable and it has to change.

At next week's Kuwait conference, it is vital that the international community now gets behind the UN and turns vague promises into actual support. Warm words won't provide the shelter and support that Syrian refugees need. Money will. That is why the UK will make a further commitment which will help to ensure this crisis does not get yet worse for the four million Syrians in desperate need as a result of the ongoing violence."**    **
Published 26 January 2013