Syria: UK doubles funding and urges others to act
The UK has more than doubled its funding to the Syrian refugee crisis as International Development Secretary Justine Greening warned that the conflict is placing an impossible humanitarian and financial toll on Syrians and on neighbouring countries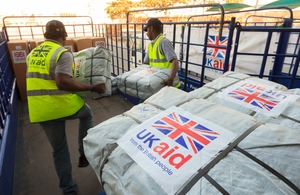 Ms Greening's call came as the international community met in Kuwait at an emergency conference hosted jointly by the State of Kuwait and UN Secretary General Ban Ki-moon, following an unprecedented $1.5 billion UN appeal to help people displaced by the ongoing Syrian crisis.
The UK is set to pledge £50 million in new British funding. With the £21 million announced on Saturday from Jordan, the UK has now more than doubled its funding for Syria in under a week in response to rapidly escalating needs.
The £50 million announced in Kuwait today will help to deliver food, medical supplies and medical care, shelter, safe drinking water and sanitation services to hundreds of thousands of people across Syria and the region.
Speaking from Kuwait, Justine Greening said:
"In Jordan on Saturday, I saw for myself the human cost of this conflict and the massive effort by NGOs to deal with huge numbers of refugees. Warm words alone won't help those without food, medicine or shelter. The UK has more than doubled its funding in the last five days as the level of need spirals - but international donors must now dig deep in Kuwait with the funding needed to save lives and assist neighbouring countries which are having to cope with huge numbers of refugees."
The UN's Syria appeal is its biggest ever short-term appeal, but prior to Kuwait had received only a fraction of the funding it needed. The £71 million promised this week, combined with £68.5 million in existing funding means the UK is now providing £139.5 million. The International Development Secretary urged other donors to follow this lead in tackling the Syrian crisis, calling for:
significant increases in funding - a handful of donors such as the UK, the US and Germany have led the way with funding. The Kuwait conference is key to tackling the shortfall. All donors need to bring significant increases to the table.
Co-ordination with Gulf States - Kuwait has demonstrated real leadership in co-hosting this conference. The UK will look to work with the Gulf States and co-ordinate our assistance. This will be critical to building a clear picture on what aid is getting through in order to ensure we are helping those who need it most.
Support neighbouring countries - Syria's neighbours have been incredibly generous in providing refuge to those fleeing the violence, but inevitably such tremendous efforts stretch resources. It is vital that Jordan, Turkey, Iraq and Lebanon receive the support they need and are able to keep their borders open to refugees fearing for their lives.
Improving access and respect for international humanitarian law - As well as providing additional funding, donor countries need to send a clear, co-ordinated message to all parties that the ongoing violence must end and pressing for respect for international humanitarian law and full and unimpeded access for humanitarian agencies.
Get behind the UN - The UN is the only organisation with the legitimacy and capability to coordinate assistance on a large scale in Syria and the region. All its aid is channelled through humanitarian partners and delivered in accordance with the principles of integrity, neutrality and on the basis of need. The regime needs to allow the UN unhindered access and field presence to directly assess needs and monitor that aid is going to those who need it most. Donors must get behind the UN's efforts to provide assistance to all those in need, regardless of affiliation, across all parts of Syria.
Published 30 January 2013