News story
Syria: Join Justine Greening for a video discussion on the humanitarian crisis
Watch the Google Hangout panel debate live at 1.30pm (UK time), Wednesday 18 September - and post your questions online.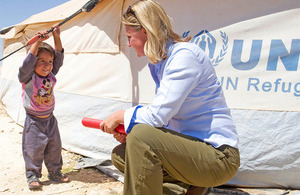 Two million people have been forced to flee Syria since the crisis began, and more than 100,000 people have been killed, according to the United Nations.
The UK has committed £400 million to help those affected by the conflict – our largest ever response to a humanitarian crisis.
We are providing food, medical care and relief items for over a million people including those affected by the fighting within Syria and to refugees in neighbouring Lebanon, Jordan, Turkey and Iraq.
International Development Secretary Justine Greening says Britain can be proud of the leading role it is playing in responding to the humanitarian crisis. This is your chance to put questions to both her and Executive Director of the World Food Programme, Ertharin Cousin.
How to take part
See the impact of UK aid
Video: See how UK aid is helping Syrians who have fled the fighting
---
See also
---
Published 17 September 2013