Syria: "an utterly unacceptable situation which demands a united international response"
Foreign Secretary William Hague updated Parliament on the situation in Syria, and plans to put pressure on the Syrian regime.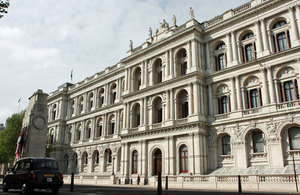 Speaking in Parliament today the Foreign Secretary said:
"With permission, Mr Speaker, I would like to make a Statement on Syria.
The whole House will be appalled by the bloodshed and repression in Syria which continues at this very moment.
Over the last 11 months more than 6,000 people have been killed.
The Syrian regime has deployed snipers, tanks, artillery and mortars against civilian protestors and population centres, particularly in the cities of Homs, Idlib, Hama and Deraa.
Thousands of Syrians have endured imprisonment, torture and sexual violence - including instances of the alleged rape of children - and the humanitarian position is deteriorating.
This is an utterly unacceptable situation which demands a united international response.
Last Tuesday I attended the UN Security Council debate in New York, along with Secretary Clinton and the French Foreign Minister Alain Juppe and other Ministers.
We all spoke in strong support of a draft UN Security Council resolution proposed by the Kingdom of Morocco on behalf of the Arab League. The resolution called for the implementation of the Arab League plan to stop the all violence in Syria from all sides, and to begin a political transition.
Mr Speaker, there was nothing in this draft resolution that could not be supported by any country seeking a peaceful end to the tragedy unfolding in Syria.
It demanded an end to all violence.
It called for a Syrian-led political process to allow the Syrians to determine their future.
And it set out a path to a national unity government and internationally-supervised elections.
It did not call for military intervention, and could not have been used to authorise any such action under any circumstances.
It did not impose sanctions.
It proposed putting the weight and authority of the United Nations Security Council behind a plan to achieve a lasting and sustainable peace in Syria.
As I said at the Security Council, this was the Arab League's plan; it was not a plan imposed by Western nations.
It was co-sponsored by a large number of nations from the region - including Turkey, Tunisia, Jordan, Kuwait, Libya, Bahrain, Qatar, Saudi Arabia, the United Arab Emirates, Egypt, and Oman. Their leadership, and their strong understanding of their region, deserves our support.
I pay particular tribute to the Secretary General of the Arab League and to the Prime Minister of Qatar, who travelled to New York to brief the Council and played a vital role in the extensive negotiations that followed.
On Saturday the resolution was put to the vote.
Thirteen of the fifteen members of the United Nations Security Council voted in favour.
Two did not: Russia and China both exercised their veto.
They did so despite extensive efforts made to amend the draft resolution to address Russia's specific concerns, and in the face of repeated appeals from Arab nations.
Instead, they chose to side with the Syrian regime and implicitly to leave the door open to further abuses by them.
They did so while President Assad's tanks were encircling Homs and shells were pounding the homes of Syrian civilians, killing up to 200 people, and on the 30th anniversary of the massacre in Hama.
We regard this veto as a grave error of judgment by the governments of China and Russia.
Mr Speaker, there is no need to mince words about this.
Russia and China have twice vetoed reasonable and necessary action by the United Nations Security Council. Such vetoes are a betrayal of the Syrian people. In deploying them they have let down the Arab League; they have increased the likelihood of what they wish to avoid in Syria - civil war - and they have placed themselves on the wrong side of Arab and international opinion.
By contrast, I thank the other members of the Security Council for the principled stand they took; in particular the non-permanent members of the Council Morocco, Azerbaijan, Colombia, Germany, Guatemala, India, Pakistan, Portugal, South Africa and Togo. All of whom voted in favour of the resolution.
Pakistan's representative to the UNSC spoke for all of us when he said "this resolution should not die; by being active and engaged, we should give hope to those who are expecting it from us".
Mr Speaker, the Syrian regime may have drawn comfort from events at the United Nations Security Council, but we will do everything that we can to make sure that comfort is short-lived.
This is a doomed regime as well as a murdering regime. There is no way it can recover its credibility internationally or with its own people.
The UN Security Council's failure to agree a resolution does not signal the end of our efforts to end the violence in Syria, and I want to set out how we will now proceed.
First, we will continue our strong support for the Arab League.
Earlier this afternoon I spoke to the Secretary General of the Arab League, Nabil El-Araby as well as the Foreign Minister of Jordan.
I welcomed and encouraged the proposal to appoint a Special Envoy of the Arab League, and I commended the Arab League's leadership and action so far.
Arab Foreign Ministers will meet this weekend to consider their options. The Secretary General was very clear about the urgency of the situation, the continued determination of the Arab world to act, and the need to step up their efforts. I told him that the Arab League will have our complete support.
Second, we will seek to widen the international coalition of nations seeking a peaceful and lasting resolution of Syria.
We welcome the concept of a new Arab-led group of Friends of Syria, which I discussed with the Prime Minister of Qatar last Tuesday.
The aim of such a group will be to demonstrate the strength of international support for the people of Syria and their legitimate demands, to coordinate intensified diplomatic and economic pressure on the regime, and to engage with Syrian opposition groups committed to a democratic future for the country.
Britain will be a highly active member in setting up such a group with the broadest possible international support.
Third, we will intensify our contact with members of the Syrian opposition. The House will recall that in November I appointed Frances Guy, an ambassador level envoy, to lead our discussions with them.
We will continue to urge the Syrian opposition to come together and to agree a common statement of commitment to democracy, to human rights, and to the protection of all Syria's minorities.
Fourth, we will maintain our strong focus at the United Nations, undeterred by Saturday's vote.
We will continue to raise Syria at the Security Council, and we will consider with other nations a resolution of the UN General Assembly. And despite our disagreement with Russia and China we will continue to discuss with them any possibility of an agreed but meaningful way forward.
Fifth, we will increase pressure through the European Union, following the discussions I had in New York with Ministers from France, Portugal and Germany. We have already agreed 11 rounds of EU sanctions and will hope to agree further measures by the Foreign Affairs Council on 27 February.
Sixth, we will work with others to ensure that those responsible for crimes in Syria are held to account.
At the UN Human Rights Council meeting in March in Geneva we will work to ensure the strongest possible mandate to scrutinise human rights violations in Syria, so that those responsible know that there will be a day of reckoning and that they will be held to account.
And seventh, we will use our remaining channels to the Syrian regime to make clear our abhorrence at violence that is utterly unacceptable to the civilised world.
The Syrian Ambassador to London was today summoned to the Foreign Office to receive this message.
Despite our deteriorating relations with the Syrian government we remain committed to ensure the safety of its Embassy and staff in London. We expect the Syrian authorities to provide the same protection to our Embassy in Damascus.
In parallel, I have today recalled to London our Ambassador in Damascus for consultations. He and his team work in extremely difficult conditions to ensure that we have an accurate picture of what is happening in Syria. I hope the House will join me in paying fulsome tribute to them and their families. Their safety and security is always prominent in our considerations.
Mr Speaker, the human suffering in Syria is already unimaginable and is in grave danger of escalating further.
The position taken by Russia and China has regrettably made this more likely.
However this government, this House, and our country and our allies will not forget the people of Syria.
We will redouble our efforts to put pressure on this appalling regime and to stop this indefensible violence.
Published 6 February 2012