Syria: A bad situation, that is getting worse
The UK withdrew all British diplomats from Damascus last week. On his return to the UK, British Ambassador Simon Collis discussed the situation in Syria.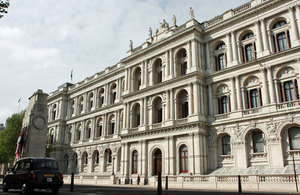 "This crisis has been running for a year now. It started off quite small and with protests that were almost invariably peaceful by people who had very modest and very legitimate demands. After six months of being shot at some of them started shooting back. We are now at a situation where the regime has continued after 7,000 deaths, well over 10,000 detained and many people tortured. They have escalated their tactics and reached a stage where they're using heavy artillery rockets to fire in to civilian area. It has been a policy of violence from the beginning which has steadily intensified until there's a kind of mini Stalingrad that we've seen in Homs over the last month."
The policy he has pursued and to which he's now committed is not a winning one. The use of force and the use of violence has made it impossible to get any kind of political solution to this situation. They have spoken about some reforms and spoken about a political dialogue, but it's not consistent with the use of heavy armour in urban areas. You can't shoot at people in cities and then say you want to talk."
The British Ambassador said that he didn't think the Assad regime will last another year:
"Families have lost loved ones. They've either been killed or arrested or they know people on their street who that has happened to. So anywhere where the protests have come out they can be repressed temporarily via a military machine, but when the army moves on to the next town or city, people come up again. They stand up again. So it's a losing battle.
"How long will it last? Well he's only got a limited number of troops that he can rely on to shoot their own citizens. A lot of the army's confined to barracks, the conscripts and so on. The economy is getting worse all the time and there's an economic clock ticking there. People are facing real hardship, there are power cuts even in the major cities like Damascus. There's only limited access to heating fuel which people need to heat their homes. There was snow there last week. So the economy is grinding to a halt. People don't have jobs, they don't have hope, they don't have a future while this continues."
"I think there's been a hollowing out of support for him. People know that, that the regime is doomed. Many business people and others have told me that they understand this, they don't want to be part of it. They don't see a future for themselves or their families, but they're fearful of acting right now because the regime is still able to get them or their family. So it could go quite quickly because it is brittle, but I think it's more likely it will take some time before this comes to an end, but there's only one way it will end".
He said there were no plans to arm the opposition, and instead focused on the regime's political isolation:
"We've been looking to work with countries like Russia and China which have been giving a degree of support to the regime to see if we can work with them to tackle the humanitarian situation. We have been working to introduce a series of sanctions in Europe which are holding named individuals responsible for the crimes that are being committed as well as denying foreign exchange to the regime. We are working to support the opposition, but not through arms, providing political support, training and capacity building support and there is encouragement through organisations or activities like the Friends of Syria meeting which took place in Tunis a couple of weeks ago."
Asked about human rights abuses he said:
"Since this crisis began a year ago from the beginning the regime has used violence to disrupt peaceful protestors and not just in hot situations where people are marching in the street, but they've been going in to people's homes at night, arresting them, people have been taken in to detention, they've been tortured while in detention. Many people have been killed while in detention and there's a huge body of evidence now in the Human Rights Council, in UN bodies, of a systematic series of policies and the British Government is funding some work to gather evidence about this kind of behaviour so that those responsible can be held to account in the future".
Published 7 March 2012