Agreement relates to UK hauliers and commercial bus drivers.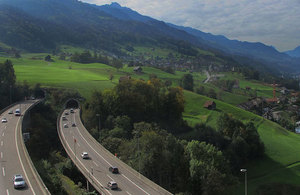 The UK has today (25 January 2019) signed the text of an agreement with Switzerland on the international carriage of passengers and goods by road.
The agreement will ensure UK hauliers and commercial bus drivers can continue to drive to, from and through, Switzerland after the UK leaves the EU, as they do now. This is one of the positive steps the UK government is taking to maintain our relationship and cooperation with Switzerland as we exit the EU. These measures ensure the continuity of the effects of our currently existing international treaties.
Roads media enquiries
Media enquiries 020 7944 3021
Out of hours media enquiries 020 7944 4292
Switchboard 0300 330 3000
Published 25 January 2019