Press release
Swayne: return to status quo in Gaza not an option
International community cannot continue to pick up the pieces in Gaza indefinitely, warns International Development Minister Desmond Swayne, as he sets out new UK support.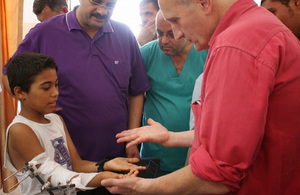 Speaking at the Gaza Reconstruction Conference in Cairo, Mr Swayne committed £20 million in early recovery assistance for those caught up in this summer's conflict, including hundreds of thousands left homeless or without access to water.
The UK support will include disposal of unexploded ordnance, rubble clearance programmes and reconstructive surgery for those injured in the conflict.
The UK stands ready to provide longer term support, but Mr Swayne made clear that this depended on progress on key political points. He called for bold steps from all parties to stop the cycle of violence in Gaza and prevent simply returning to the pre-conflict status quo.
Desmond Swayne said:
The UK was one of the biggest donors to Gaza during the fighting this summer and we are committing a further £20 million to help the people of Gaza get back on their feet.

Simply relying on international donors to continue to pick up the pieces is not an option. The cycle of conflict and emergency aid is unsustainable. The need for bold political steps from all parties has never been more apparent.

It is critical that reconstruction efforts now form part of a process of meaningful political change. The UK will continue to stand alongside the people of Gaza in their hour of need, but this must be the last time that we see Gaza being rebuilt.
Key points the UK is pushing for progress on include:
implementation of and support for the UN's new mechanism to facilitate the import and use of construction materials to rebuild Gaza;
agreement from Israel to allow unimpeded entry for humanitarian goods and personnel into Gaza;
easing of movement and access restrictions on people and goods into and out of Gaza, including the transfer of goods to the West Bank and exports to Israel;
a durable ceasefire agreement that addresses Israel's security concerns and includes the return of the Palestinian Authority (PA) to govern Gaza;
urgent progress on access to electricity and water supplies following the conflict;
a long term strategy for Palestinian economic growth.
The new £20 million in early recovery support from the UK includes:
reconstructive surgery and rehabilitation for those injured in the conflict;
clearance of unexploded ordnance across Gaza;
short-term employment schemes that provide an income to local people while supporting rubble clearance and infrastructure repairs;
shelter and basic services for people forced out of their homes by the fighting;
support to the private sector so Palestinian businesses can make the repairs they need to get back into business;
funding for the UN's new monitoring and verification mechanism that will facilitate the import and use of construction materials to rebuild Gaza;
technical assistance to the Palestinian Authority to help it return to Gaza;
direct support to the PA so it can lead reconstruction efforts and to the UN Relief and Works Agency so it can deliver basic services in Gaza.
Notes to editors
The UK has been one of the biggest donors to Gaza this summer, providing more than £17 million in emergency assistance to deliver lifesaving food, clean water, shelter and medical assistance to tens of thousands of people affected by the fighting.
Total UK support to Palestinians is £349 million from 2011-15, including around £30 million a year for Gaza.
The fighting in July and August this year made 100,000 people homeless and left 450,000 with no access to water in Gaza.
General media queries
Follow the DFID Media office on Twitter - @DFID_Press
Published 12 October 2014