Press release
Swaledale Festival wins Prime Minister's award
North Yorkshire's Swaledale Festival is celebrating a record-breaking 2014 programme after being recognised with a Big Society Award.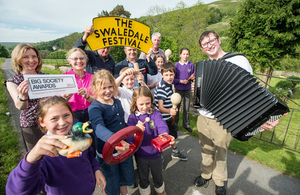 The announcement comes as the 2 week community arts festival celebrates the close of its 2014 programme which included music from local and international artists, guided walks, talks and theatre productions.
The festival, which is staffed by 120 volunteers, sees 8,000 attending more than 60 events in local churches, castles and pubs.
The Swaledale Festival is a charity event, run by 2 part-time staff and an army of local volunteers. The charity works with communities in Richmond and the surrounding area throughout the year to develop a variety of arts projects for local people.
The Swaledale Festival Percussion project inspired 100 children in 5 Richmondshire schools. The children worked with a local woodwork experts to make instruments while learning technical, manual and communication skills as well as learning about local heritage. The 5-month project ended in March with all the children performing with professional Samba band Forro Porro to a sell-out audience in a local church, playing the instruments they had helped to make.
This year the Swaledale Festival organisers arranged for visiting international musicians to perform concerts in 14 local care homes for residents who were unable to get to Festival events.
Prime Minister David Cameron said:
For over 40 years, volunteers, staff, businesses and local organisations in North Yorkshire have worked together to create one of Britain's leading arts festivals, attracting thousands of visitors to the area.

The Swaledale Festival's innovative projects to bring performers into care homes and sheltered housing and to educate and inspire local young people throughout the year put world-class arts at the heart of the community.

I'm delighted to recognise everyone involved with this Big Society award.
Malcolm Creese, Artistic Director said:
Winning a Big Society Award means an enormous amount to the team at Swaledale Festival, and to all the people who made the Percussion Project such a memorable event. I am particularly thrilled for the 100 children who took part; I can't wait to tell them the good news.
Published 9 June 2014