News story
Sussex flag flies above Whitehall to mark Sussex Day
The flag representing the historic county of Sussex has been hoisted above the department's offices to coincide with Sussex Day on 16 June.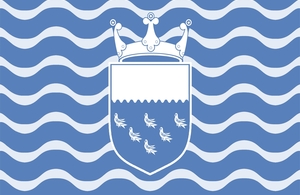 As part of its programme of recognising and celebrating the traditional institutions of England, the government today marks Sussex Day by flying the flag of Sussex - the location of the Battle of Hastings, infamous persecutions during the Reformation and the Swing Riots in the 19th century and Sussex has played a central role in the shaping of English life.
The 16 June is the feast day of Saint Richard of Chichester, Sussex's patron saint. It was generally believed that miracles were wrought at Richard's tomb in Chichester cathedral, which was long a popular place of pilgrimage, and in 1262 he was canonized at Viterbo by Pope Urban IV.
In April, the government formally acknowledged the continuing role of England's traditional counties in English public life. Previously, many parts of Whitehall and municipal officialdom have shunned these counties, many of which date back over a thousand years of English history. This move complements this government's abolition of unelected regional government in England, based on European Union's 'NUTS1' (Nomenclature of Units for Territorial Statistics) administrative boundaries. By contrast, the celebration of Sussex reflects how the government is championing the long-standing, traditional localities of England.
The government has amended the law to make it easier to fly flags without a permit from the council – these new freedoms include flying the Wessex flag.
Eric Pickles said:
We are stronger as a society when we celebrate the ties that bind us together. I want to send a strong signal – we should fly our flags with pride. Whatever one's class, colour or creed, let's have pride in Britain's local and national identities.

Today it is right to celebrate Sussex, one of England's ancient kingdoms. The historic English counties are one of the oldest forms of local government in Western Europe. Their roots run deep. And no amount of administrative reshuffling can delete these longstanding and cherished local identities.
Louise Goldsmith, Leader of West Sussex County Council said:
I am very proud that the flag will be flying on Sussex Day which we see as a great opportunity to encourage our local communities and residents to celebrate all that is best about our county and its rich heritage.
Further information
The Sussex flag is being flow alongside the United Kingdom's Union flag, outside the Department's for Communities and Local Government in Victoria, London. It was loaned free of charge by West Sussex County Council.
The government has amended the law to make it easier to fly local and traditional flags without a permit from the council. See Flying flags: a plain English guide.
Photo above by Jza84 used under Creative Commons.
Published 16 June 2013