News story
Supporting Chile's human rights agenda
To mark UN Human Rights Day, we present the most relevant work carried out during 2013 with the Chilean government and civil society.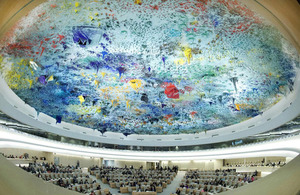 The British Embassy Santiago, in alignment with the Foreign and Commonwealth Office, considers the protection and promotion of fundamental human rights vitally important in the development and increase of UK relations with other world countries. In the particular case of Chile, the Embassy is proud to work in different areas that positively and actively support the progress and improvement of fundamental human rights, especially in groups where these rights tend to be forgotten and have few opportunities to be implemented.
During 2013, the Embassy in conjunction with the Chilean National Guard organised a seminar for penitentiary workers that focused on promoting the fundamental human rights of incarcerated Chilean citizens. One of the international speakers at this event was Dr. Peter Bennett, Head of the International Centre for Prison Studies (ICPS), who during his visit to Santiago also signed a collaboration agreement with Fundación Paz Ciudadana. In a seminar related activity, the experts visited various prisons in the Metropolitan region to view the living and working conditions in order to provide bespoke ideas and tools to seminar participants.
In addition to this project, within the framework of the Embassy's bilateral cooperation projects, we supported a pilot project developed by Fundación Mujer Levántate and Sincronía to assist with the vocational rehabilitation of detained women through textile production training. The trainings are given to women who will soon complete their sentences as a way to help them afterwards with their vocational reintegration. The trainings also aimed to empower these women on their right to work and positively value their right to freedom.
Finally, considering the importance that social movements have had in Chile in recent years, the British Embassy in collaboration with a series of non-governmental organisations supported the first massive civil society summit that aimed at encouraging understanding between political and civil society sectors. During this event entitled 'Populusaurio', several local civil society organisations presented their concerns and goals to the different presidential campaign coordinators to assure that next president-elect can address and incorporate these questions within government plans and programmes. In these initiatives, the British Embassy directly supports the right to freedom of expression as well as active and non-violent citizen participation in national civic life.
Further information
You may read a summary of Foreign Secretary William Hague's statement on 2013 UN Human Rights Day here.
To learn more about the work the British Embassy in Santiago does promoting human rights contact Javier Maldonado.
Published 10 December 2013