Press release
Superfast broadband deal for Tove Valley
Up to 450 homes and businesses in Northamptonshire's Tove Valley are expected to benefit from superfast broadband after a £117,000 grant was approved to get the scheme underway.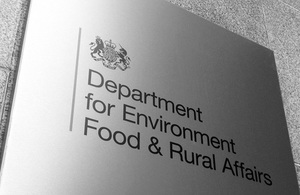 The Defra grant will help homes and businesses to overcome social and economic isolation and give them access to broadband speeds of up to 30mbps.
The announcement comes as Defra today opens the final round of the £20m Rural Community Broadband Fund, which targets the most hard to reach areas of the country. The fund will provide around 50% of the overall project costs.
The announcement comes as the Environment Secretary Owen Paterson addresses the annual conference of the Federation of Small Businesses in Leicester, to outline how he is supporting growth in the rural economy.
Rural Affairs Minister, Richard Benyon said:
"Superfast broadband is just as important as roads and rail to get our economy moving. This is great news for people and businesses in Tove Valley and will help the individual businesses get better connected as well as benefitting the local economy."
Northamptonshire County Council cabinet member for infrastructure and public protection, Councillor Andre Gonzalez De Savage said:
"Superfast broadband right across our county is essential if we are to be able to compete in the global digital economy and I'm delighted that the County Council has been able to support this pioneering project in Northamptonshire's Tove Valley. I look forward to seeing this community project go from strength to strength."
Abthorpe Broadband Association has been delivering wireless broadband to local residents and businesses for more than nine years. But the new funding will be used to update their current wireless network with the latest fibre-based network. It will also allow them to develop a network which links together the villages of Abthorpe, Weedon Lois, Wappenham, Slapton and Weston.
Eric Malcolmson, chair of the Abthorpe Broadband Association, said:
"Everyone in the upper Tove Valley is very excited that a superfast broadband service will soon be available. Defra's approval for funding our project means that our communities deep in rural Northamptonshire will benefit from fast connections to the internet. This is an opportunity for the 60% plus of properties which have a business interest to survive and thrive and provide a step change in the way households can use the internet.
"I am pleased that my ABbA team can at last see the fruits of their ambitions to bring our area into using 21st century communications."
To apply for Rural Community Broadband Fund visit http://rdpenetwork.defra.gov.uk/funding-sources/rural-community-broadband-fund
Published 22 March 2013