World news story
Summer football in Canada
Travel advice for fans travelling to Canada this summer to attend friendly matches.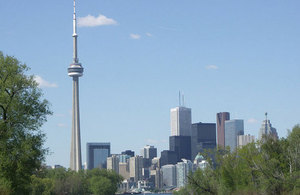 Those visiting Canada should review the Foreign Office's travel advice. It includes information on entry requirements, health care, and local laws and customs.
Scheduled Matches
English Premier League club Sunderland A.F.C. will visit Toronto for a friendly match against Toronto FC on Wednesday 22 July at 7pm. The match will take place at BMO Field which is located just west of downtown at Exhibition Place.
A number of football teams are also playing friendly matches in the United States. You should review guidance from the British Embassy in Washington if you plan to attend matches in the USA.
Visas
British citizens don't usually need a visa to visit Canada for short periods
visitors with a different type of British nationality or those intending to travel for a longer period you should review the entry requirements for Canada
when you arrive you will need to be able to show that you have enough funds available to support yourself during your stay, even if you're staying with family and friends.
your European Health Insurance Card (EHIC) is not valid in Canada and there is no special arrangements for British visitors
comprehensive travel insurance is essential, even if you are only going for one night. It could save you a lot of money should you get into difficulty.
Passports
know where your passport is at all times and keep it in a safe place
Canada has an ID culture, and you could be asked frequently to present your identification
value your passport and look after it carefully
never leave your passport in a rental car, even for a short period
your passport is not always safer on you. Lock your passport in a safe if you have access to one and take another form of ID, such as your driving licence, out with you.
make two photocopies of your passport – leave one with friends or family and take the second with you, or store it online using a secure data storage site
Match Tips
allow enough time to arrive at the venue, especially if it is your first time visiting
traffic in and around Toronto is expected to be heavier than normal as the city is hosting the Pan Am Games from 10 to 26 July
review the City of Toronto's Getting Around guide for important transportation updates during the Pan Am Games
bring identification if you are collecting or purchasing tickets on the day
remember to look left when crossing the road and if driving keep to the right hand side
minimise the items you are bringing to the game; bags will be searched and you may be asked to dispose of items. For complete listings, visit your venue website.
Useful Links
Published 9 July 2015