News story
Summary Care Record: giving patients a stronger voice
For the 15 million patients in the UK with a long term condition, it can be a real struggle communicating their needs, especially in an emergency.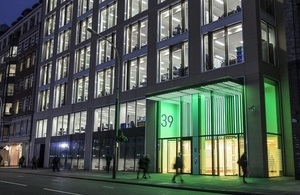 Asthma patients being asked to repeat their medical history when they can't breathe. The patient with lung disease carrying around a wash bag with "Please make sure I take this medication" written on it when admitted to hospital.
Charities and patient groups are increasingly recognising that one of the easiest and most effective ways of giving patients a stronger voice is the Summary Care Record.
This is a relatively new national, electronic record containing basic information about medications, allergies and bad reactions to drugs. It is mainly being used by out of hours GPs to provide safer care where no other information is available. So far, just under a fifth of patients in England, where the record is gradually being introduced, have had a record created for them.
Patients are in the driving seat. They can easily opt out of having a record and decide who sees it. They can also speak to their GP about adding the most crucial information that they want the NHS to know about them to their record.
The Muscular Dystrophy Campaign has urged their patients to do just this. It was a key recommendation in their recent report Hospitals in Focus, which highlighted how neuromuscular patients have been left permanently needing to use a wheelchair following inappropriate treatment given by doctors ignorant of their specialist needs. Mencap, Asthma UK, Diabetes UK and the British Lung Foundation are also now raising awareness among their patients about how Summary Care Record could benefit them.
With these groups seizing the initiative, there is an encouraging opportunity here to see "no decision about me without me" in action.
The Department wants to encourage this debate and hear what you would like the NHS to know about you, in an emergency.
You can comment below, or get in touch using the details on our contact page.
Read the Hospitals in Focus report
Published 11 October 2011