News story
Students update minister on binge drinking project
Crime Prevention Minister Norman Baker has visited the University of Brighton to find out about their work on the Alcohol Impact initiative.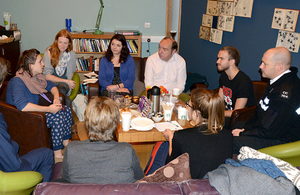 Crime Prevention Minister Norman Baker has visited the University of Brighton to find out about the progress of a Home Office-backed project that aims to change attitudes towards excessive drinking.
Seven universities around the country have signed up to the National Union of Students (NUS) Alcohol Impact initiative, which was launched in May.
Responsible drinking
In Brighton, the NUS is looking at ways to tackle pre-drinking in halls and promoting a culture of responsible drinking, by ensuring all bars offer non-alcoholic beverages at the same or lower price than alcoholic drinks.
Crime Prevention Minister Norman Baker said:
Visiting the University of Brighton gave me the chance to hear from students about the progress already being made through the NUS Alcohol Impact initiative.

It is good that they welcome the opportunities to have fun without getting drunk.

This Home Office-backed project is already helping universities to encourage responsible drinking - leading to safer and more productive places to study and live.
Non-alcoholic events
During its recent freshers' week, Brighton university organised a series of non-alcoholic events including café crawls, knitting workshops and film nights.
NUS Vice President (Welfare) Colum McGuire said:
It's been fantastic to have the minister visit one of the places where our pilot alcohol impact schemes is taking place, so he can see first-hand how seriously NUS and our member students' unions consider the welfare of students.

Our Alcohol Impact scheme works with students' unions and institutions to change attitudes towards drinking and to build healthier, safer, student communities.

Going to university should be fun and exciting, but it's really important too that students consume alcohol responsibly during this period and beyond.
The seven universities taking part in the pilot are Loughborough, Nottingham, Manchester Met, Liverpool John Moores, Swansea, Royal Holloway and Brighton.
Published 23 October 2014