News story
Stow Maries aerodrome saved by £1.5m grant
Last surviving First World War aerodrome's long-term future secured.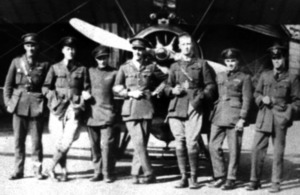 Built in 1916, Stow Maries in Purleigh near Maldon, Essex was home to the 37 Squadron, Royal Flying Corps, who helped defend London from German bombing raids. It closed in 1919 and remained overgrown until 2009 when it was rediscovered by a group of enthusiasts. It was given Grade II listed status by the Department for Culture, Media and Sport 2012.
Now, thanks to a £1.5 million grant from the National Heritage Memorial Fund (NHMF), Stow Maries Great War Aerodrome Trust has secured the site which is Europe's only remaining unaltered First World War Aerodrome.
See more pics in our Stow Maries Facebook album.
Unique history
Stow Maries was built as a direct response to increased attacks by German Zeppelin airships and later Gotha fixed-wings bombers on British mainland. Led by 19 year-old Captain Ridley, the 37 Squadron, Royal Flying Corps played a vital role in protecting the Capital and surrounding towns in what became known as the First Battle of Britain in 1917.
Published 15 October 2013