Stonewall announces the Home Office as top public sector employer
The Home Office is the best public sector employer of the year for lesbian, gay and bisexual people, Stonewall has announced today.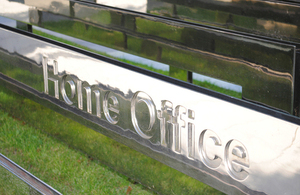 The department, which topped the list of all employers in 2011, comes second after Ernst & Young in Stonewall's prestigious index which began in 2005.
Being so prominent in the index recognises that the Home Office has continued to be a place where staff feel they can be open about their sexuality. The award shows that the Home Office excels in ensuring that lesbian, gay and bisexual staff are represented and supported by senior managers and Spectrum, the department's own network group.
Helen Ghosh, the Home Office Permanent Secretary, said:
'We have set ourselves a very high standard and, while I'd rather be first than second, I am delighted we are so prominent in this year's Stonewall Index.
'All our staff, whether they are serving the public or dealing with key policies, need to feel comfortable in their environment to perform well and understand the society we live in. This award demonstrates that all our staff are able to be open about their sexuality in this department, so that they can perform to the best of their ability.'
Equalities Minister Lynne Featherstone said:
'I am delighted the Home Office is still the best public sector employer for lesbian, gay and bisexual people.
"This is a great achievement for the department, and for all staff who have worked to help ensure equality is not just an add-on, but part of everyday practice.
'The Home Office will continue to challenge discrimination and promote a working environment in which people can be open about their sexuality and their gender identity. This is not only important for a fair and tolerant society but it is crucial to our success in delivering an effective public service.'
The Home Office received particular recognition for its Spectrum network, which provides mentoring schemes, buddying support groups, coaching and development for lesbian, gay and bisexual staff. The department also supports A:Gender, the support network for transgender staff in the civil service.
The Home Office is leading the government's action to tackle prejudice and remove barriers. Last year saw the introduction of the Public Sector Equality Duty which requires local authorities and public sector bodies to act on discrimination in every aspect of their day to day work. New legislation came into force last month allowing civil partnerships to take place on religious premises and the department launched the first cross-government action plan to tackle prejudice against transgender people.
Ben Summerskill, Stonewall Chief Executive, said:
'Congratulations to the Home Office for securing the second position on the 2012 Stonewall Top 100 Employers list. Competition for a place in the Top 100 was fiercer than ever this year. With new, more demanding criteria, every employer securing a position in the Top 100 has performed impressively - and the participating employers collectively employ over 1.9 million people.
'The Index remains a powerful tool used by Britain's 1.7 million gay employees and 150,000 gay university students to decide where to take their talent and skills.'
Ravi Chand CBE QPM, Head of Equality and Diversity at the Home Office, said:
'My team has worked incredibly hard to maintain our commitment to supporting lesbian, gay, bisexual and transgender staff at the Home Office. I am delighted we have continued to set such high standards.
'We will continue to celebrate diversity and enhance the contributions that people from all walks of life can bring to the department.'
Note to editors
1.  For more information about the Stonewall Workplace Equality Index 2012 go to http://www.stonewall.org.uk/media/current_releases/6681.asp.
Published 11 January 2012