Stonehenge visitor centre to rise again
A new dawn at Stonehenge.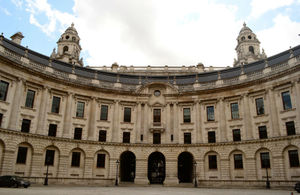 Work has officially begun today on improving visitor facilities at the iconic Stonehenge site.
A new exhibition and visitor building will be constructed 1.5 miles west of the much-admired stones at Airman's Corner.
Heritage Minister John Penrose, who visited the site this morning, said: "I'm absolutely delighted that work is finally underway to preserve this internationally recognisable prehistoric World Heritage Site, and to improve the visitor experience for those who come to marvel at it too."
The £27 million project is financed almost entirely by Heritage Lottery Fund money, commercial income and philanthropic donations including significant gifts from the Garfield Weston Foundation, Linbury Trust and the Wolfson Foundation.
Transforming Stonehenge
Developed with the support of the National Trust, Wiltshire Council, the Highways Agency, and Natural England, this project will transform the setting of Stonehenge.
The A344 will close in 2013. The section of it which currently runs past the monument, almost touching the Heel Stone, will be grassed over, reuniting the stone circle with its ancient processional way and the surrounding landscape. The remaining part will be closed to public vehicles, and will become the route of a new visitor shuttle service to the stones.
Visitors will approach over chalk downland from the west - either via a ten minute journey on the visitor shuttle, or on foot - instead of approaching the stone circle from the east on a busy road.
And their visit will, for the first time, be enhanced by a large exhibition curated by English Heritage experts which will tell the story of the site and its relationship with the wider landscape. This will feature important objects excavated near Stonehenge on loan from the Wiltshire Heritage Museum and the Salisbury and South Wiltshire Museum. The visitor building also features education rooms and much improved amenities with full disabled access.
"A new dawn"
"A new dawn at Stonehenge is truly upon us," said English Heritage Chief Executive Dr Simon Thurley. "After nearly 30 years English Heritage finally has a scheme that will transform the setting of the stones and our visitor's experience of them." He added: "The restoration of the landscape together with a major new exhibition on site will finally give our greatest and most famous monument the treatment it deserves."
Throughout the construction, Stonehenge will continue to welcome visitors as normal at its existing facilities. An opening date for the new visitor building will be announced in 2013, and the switch-over to the new facilities will be overnight so that there will be no disruption to visitors.
Further information:
Published 7 September 2012