Press release
Stock transfer deal could mean £30 million in social home investment
Gloucester social housing residents could benefit from £30 million investment to improve their homes.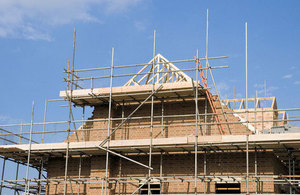 Gloucester residents could benefit from £30 million additional investment in bringing their homes up to a high standard, under a new deal between the council and Housing Minister Kris Hopkins.
The move to transfer ownership of the city's social housing stock from the council to a housing association could also lead to the first new social homes being built in the city for 25 years.
During a visit to Gloucester, the minister described it as "a good deal for Gloucester residents".
Transferring social housing stock
Currently, Gloucester's social homes are owned by the council and managed by Gloucester City Homes. Under the terms of the deal, Gloucester City Council would transfer ownership of its 4,800 homes so they belong to Gloucester City Homes outright, in exchange for the government wiping out its £50 million of historic housing debt.
All these homes already meet the government's Decent Homes standard. But today's deal would enable Gloucester City Homes to invest in future refurbishments and repairs – and build the first new social homes in Gloucester for 25 years.
The deal will now go to the city's council home tenants who will get a vote on whether the homes are transferred to the new landlord.
Speaking on a visit to Gloucester, Housing Minister Kris Hopkins said:
As an MP and former council leader, I've seen for myself the difference stock transfer can make, unlocking millions of pounds to refurbish homes and improve the lives of tenants.

So I'm pleased to be signing this deal with Gloucester City Council, which could lead to the first new social homes in the city for 25 years, and lead to as much as £30 million additional investment in existing stock over the next 10 years.
Conservative MP for Gloucester Richard Graham said:
The debt write-off is probably the biggest single direct investment by government in Gloucester for a generation. It will make a real difference to my constituents.
Leader of Gloucester City Council Paul James said:
As a council we own 4,800 homes and we take our responsibilities as a landlord very seriously. The condition of our stock and the service given to tenants is hugely important to us.

Over the last few years, £40 million investment has seen 100% of our stock reach the Decent Homes standard and Gloucester City Homes has done an excellent job in both managing the properties and involving tenants.

But we know that we cannot continue to invest even more in future to the degree that is needed because of restrictions in borrowing. Transferring the stock to Gloucester City Homes will overcome this.
Chairman of Gloucester City Homes Board Tim Dare said:
Gloucester City Homes is delighted with the minister's announcement today, which is fantastic news for tenants and for Gloucester residents. I would like to thank all political groups at the city council who unanimously recognised that stock transfer is the only option which will continue to support future investment in tenants' homes and will allow new affordable homes to be built.

It is very important that tenants exercise their right to vote in a ballot this September. Gloucester City Homes is about listening to and working with tenants to provide high quality services.

We would like the opportunity to continue our successful journey as an independent housing provider to meet tenants' needs and aspirations for their homes and communities in the future.
Office address and general enquiries
2 Marsham Street
London
SW1P 4DF
Contact form http://forms.communiti...
General enquiries: please use this number if you are a member of the public 030 3444 0000
Published 8 April 2014