News story
Stay Ahead of the Games: Rio 2016
FCO launches 'Stay Ahead of the Games' travel campaign for the 2016 Olympic and Paralympic Games in Brazil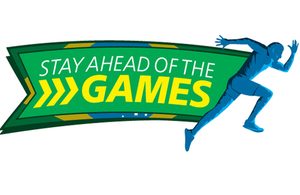 With one year to go until the start of 2016 Olympic and Paralympic Games, the Foreign and Commonwealth Office (FCO) is launching 'Stay Ahead of the Games', a campaign providing important advice to British fans travelling to Rio de Janeiro.
Last year, more than 200,000 British nationals visited Brazil, many for the FIFA World Cup, and most visits were trouble-free. But with thousands of fans expected to make the trip to Brazil next August to cheer on Team GB and ParalympicsGB, the FCO is encouraging British nationals to plan ahead and be aware of potential issues before travelling so that they can have an enjoyable and stress-free time.
The Rt Hon Grant Shapps, Foreign and Commonwealth Office Minister, said:
For those lucky Brits with a ticket to the Games in Rio, it's only a year to go. To ensure fans make the most of their time in Brazil, we're encouraging them to crack on with their travel planning and stay ahead of the Games.

From travel insurance to vaccinations, as well as booking accommodation in plenty of time, there are some things travellers can start to get sorted. Just like the brilliant Team GB and ParalympicsGB athletes, a successful trip to the Games is built around careful preparation.
Dr Tim Brabants MBE, Olympic Champion Sprint Kayaker (Beijing 2008) and Stay Ahead of the Games ambassador, added:
I've been fortunate enough to travel the world with my sport, competing in four Olympic Games, so I know how important it is to be well prepared.

Brazil is beautiful and exciting country. But travelling anywhere presents its own unique set of challenges. For a safe and enjoyable trip, fans should follow the 'Stay Ahead of the Games' tips and advice.

Be ready for Rio and enjoy cheering Team GB and ParalympicsGB on to gold!
As part of the 'Stay Ahead of the Games' campaign, the FCO has compiled an eight top tips checklist to keep travelling fans on the right track.
Ensure that you obtain comprehensive travel insurance and that it covers you for all activities that you want to carry out while in Brazil.

Book your Games tickets and accommodation as far in advance as possible and from authorised sellers. Demand for hotel rooms in Rio is likely to outstrip supply during the Games period. Tickets are also likely to sell out. Avoid buying or selling tickets on the secondary market as ticket 'touting' is a criminal offence in Brazil. The authorised UK ticket seller for the Olympic Games is CoSport (the authorised seller for the Paralympic Games will be announced soon).

Your passport must be valid for a minimum period of 6 months from the date of entry into Brazil.

Brazil is the world's fifth largest country. If you plan to travel outside of Rio, make sure you plan your journey carefully and book flights well in advance.

Check which vaccinations and medication you need before you travel, especially if you plan to travel to more remote parts of the country. For advice see the NHS Fit for Travel page.

Learn a bit of Portuguese as English isn't as widely spoken as you may expect.

For our latest travel advice, sign up to our travel advice alerts.

Follow @FCOTravel and @UKinBrazil on Twitter, and FCO Travel on Facebook.
If you would like further information please contact 020 3697 4389 or foreignandcommonwealthoffice@consolidatedpr.com.
Further information
About FCO 'Know Before You Go' campaign
The FCO 'Know Before You Go' campaign targets a number of audiences, from gap year students to package holidaymakers; sports fans to older travellers and people visiting friends and family abroad. The campaign works with more than 400 travel industry partners to communicate its messages. For more information visit our Know Before You Go page.
If you have any enquiries for FCO consular staff before you go or while abroad you can use the FCO's Twitter service @FCOtravel. This adds to the ways that British people travelling or living overseas can already get in touch with the FCO: by emailing our travel advice team or contacting local consular staff.
You can keep up-to-date with the latest FCO travel advice by signing up to the FCO's Facebook and Twitter feeds.
Published 4 August 2015